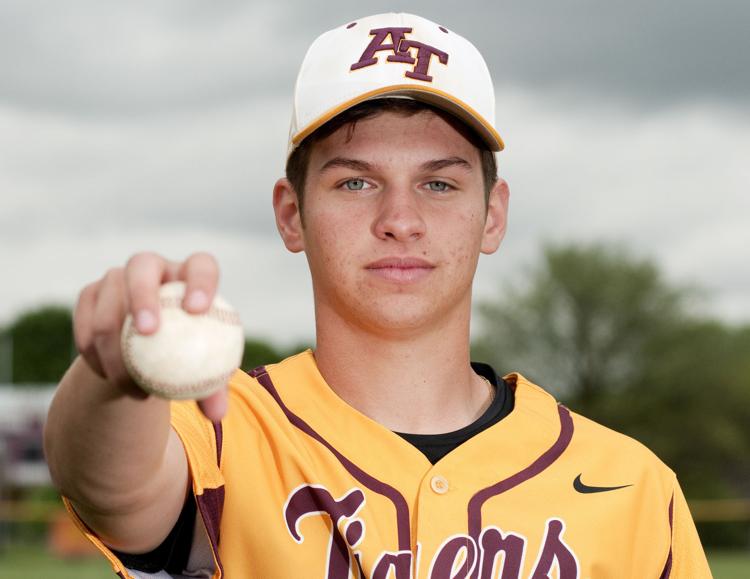 The 2019 area baseball season saw a number of outstanding pitching performances.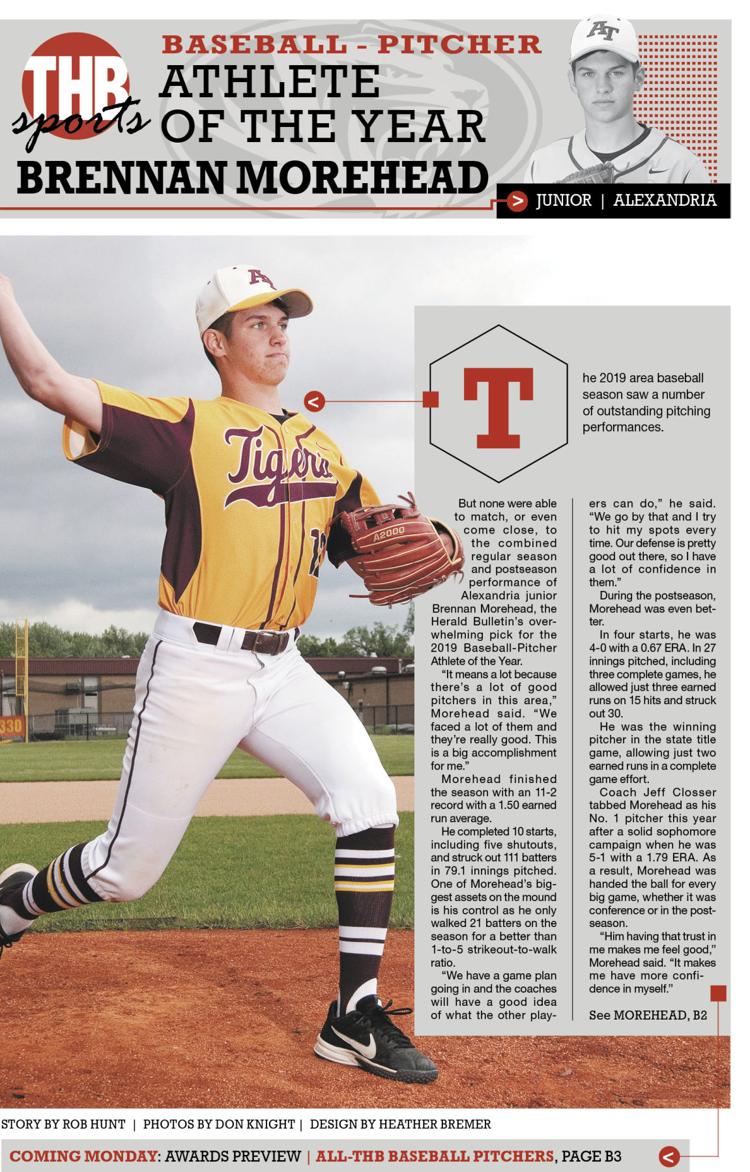 But none were able to match, or even come close, to the combined regular season and postseason performance of Alexandria junior Brennan Morehead, the Herald Bulletin's overwhelming pick for the 2019 Baseball-Pitcher Athlete of the Year.
"It means a lot because there's a lot of good pitchers in this area," Morehead said. "We faced a lot of them and they're really good. This is a big accomplishment for me."
Morehead completed the season with an 11-2 record with a 1.50 earned run average. He completed 10 starts, including five shutouts, and struck out 111 batters in 79.1 innings pitched. One of Morehead's biggest assets on the mound is his control as he only walked 21 batters on the season for a better than 1-to-5 strikeout-to-walk ratio.
"We have a game plan going in and the coaches will have a good idea of what the other players can do," he said. "We go by that and I try to hit my spots every time. Our defense is pretty good out there, so I have a lot of confidence in them."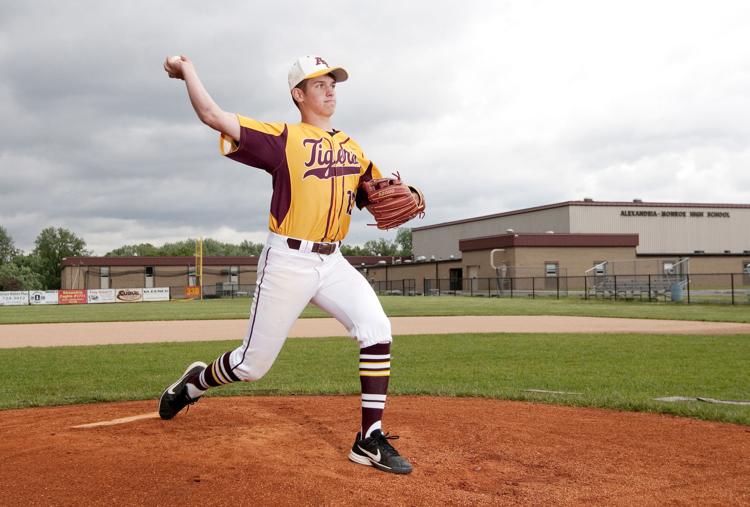 During the postseason, Morehead was even better.
In four starts, he was 4-0 with a 0.67 ERA. In 27 innings pitched, including three complete games, he allowed just three earned runs on 15 hits and struck out 30. He was the winning pitcher in the state title game, allowing just two earned runs in a complete game effort.
Coach Jeff Closser tabbed Morehead as his No. 1 pitcher this year after a solid sophomore campaign when he was 5-1 with a 1.79 ERA. As a result, Morehead was handed the ball for every big game, whether it was conference or in the postseason.
"Him having that trust in me makes me feel good," Morehead said. "It makes me have more confidence in myself."
After two rocky outings to start the season, one in Tennessee and another in the Mueller Tournament opener at Pendleton Heights, Morehead said he had to learn to calm himself down. He said that requires a process that lasts throughout the day.
"I start early, I think about it all day that it's just another ball game," he said. "(The championship game), I'll have all day to think about it because it starts at 8:30, so I have to relax all day and visualize myself on the mound."
Pitching since he was 7 years old and possessing a fastball that tops out around 88 miles per hour, Morehead has learned to understand the importance of changing speeds and locating his pitches.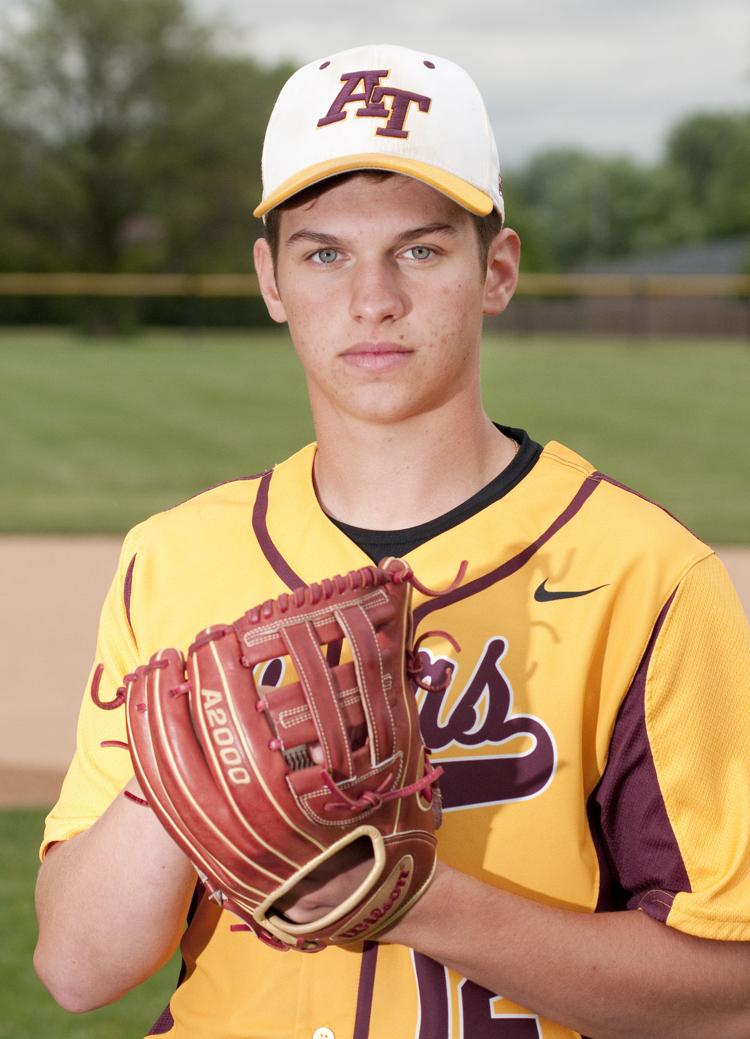 "Having good off-speed and good location," he said. "Throwing that first pitch curve for a strike is big for me. If I get ahead in the count, I feel a lot more comfortable on the mound."
He still has another year of high school to continue mastering his craft.