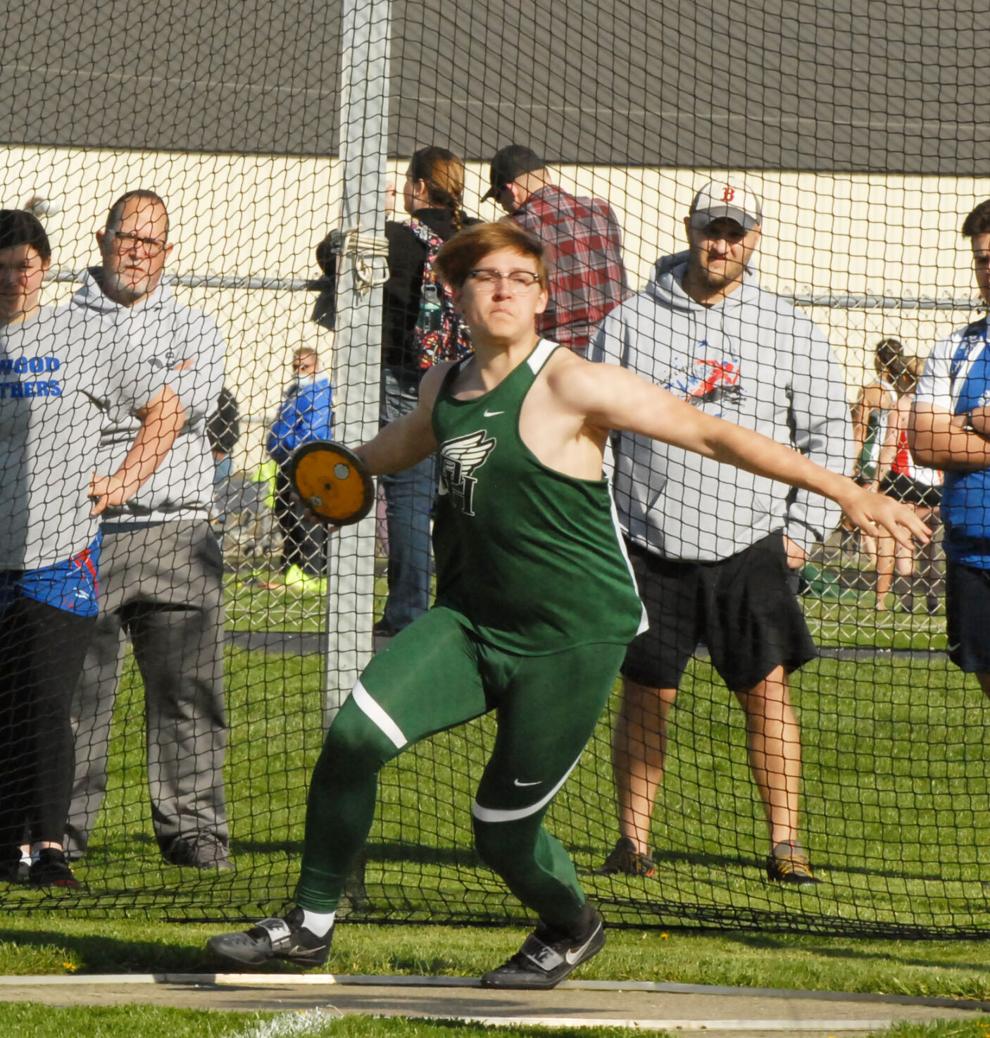 Prior to the track and field season, Pendleton Heights senior thrower Andrew Harvey set the bar high for his final year in Arabians green.
"I feel like I'm stronger and that my technique on my throws is much better than it was my sophomore year," Harvey said back in March. "The numbers and distances are definitely farther than they had been."
In fact, the distances on his discus and shot put throws this season were not only the best of his own career, they proved to be the best of any Pendleton Heights track athlete ever.
He now owns school and sectional records and qualified for the 2021 state meet in both events, earned a podium finish in the shot put, and will take home the 2021 THB Sports Boys Athlete of the Year award.
Harvey emerged from a talented field of competitors and narrowly prevailed over Daleville junior wrestler Julius Gerencser and Lapel two-sport star Parker Allman to become the first overall Athlete of the Year from Pendleton Heights in the four-year history of the THB Awards Show.
"I had a successful season and had a lot of fun," Harvey said. "That's what really matters."
There was plenty of success in 2021 for Harvey.
In the season opener, Harvey threw the discus 178-foot-5 to break the school record that had stood since 2006. He did not stop there, breaking a 31-year old school shot put record with a distance of 54-6.5.
Just over two weeks later, Harvey beat those school marks — and in the
process broke the Madison County records in both — at the county meet at Madison-Grant. His winning discus throw of 179-3 broke the county mark by 24 feet and his shot put distance of 54-5 ¾ was enough to break the two-year-old mark set by A.J. Jones of Madison-Grant.
He won the John McCord Memorial Award that night as the most outstanding boys athlete in the county and led the Arabians to their third straight boys county title.
He wasn't done setting records and winning championships.
Harvey opened the postseason at the Mount Vernon sectional and was battling a cold that had weakened him that week. Despite that handicap, he still managed to win both events convincingly, and did both in sectional record fashion with 172-10 in the discus and 57-4 in the shot put. He still won the discus by 20 feet.
"He's just had a phenomenal year," PH coach Bill Coggins said that night. "That's the season he's had. He can feel under the weather and still come out and break records."
Throwing into the wind and battling a problem with scratching at regional, Harvey struggled with distances. But, he still managed to place second in discus (167-7) and fifth in shot put (54-11) and advanced to state in both.
The fouling problems resurfaced at state, costing Harvey a podium finish in the discus. But he recovered in time to place sixth in the shot put with a distance of 56-2 ¾.
Now he sets his sights on a collegiate career at Eastern Illinois, where he committed over a year ago. He is looking forward to getting started this fall and to the ensuing winter indoor and spring outdoor seasons.
"I'm looking forward to travelling around the Midwest and the rest of the United States and seeing how I stack up against some of the best throwers in the nation," he said.