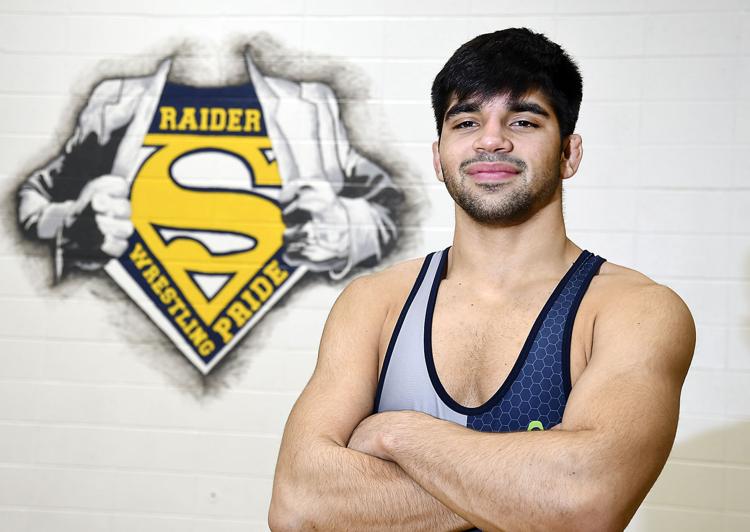 In a year shortened by the coronavirus pandemic and highlighted by three individual athletes from the area who placed in the top four in their sport in the state, Shenandoah senior Silas Allred still stands alone.
Allred wrestled 39 times this season, won all 39 times and won all by fall, capping a brilliant Raiders wrestling career with a second straight undefeated state championship at 195 pounds.
His dominance was enough to outdistance a pair of Lapel contenders, state tennis semifinalist Jesse McCurdy and cross country state finals third-place finisher Luke Combs, to wrap up his second consecutive THB Sports Boys Athlete of the Year Award.
In addition to Allred, Combs and McCurdy, the finalists this year were Brennan Jones (Pendleton Heights soccer), Cole Alexander (Lapel football-offense), Cade Vernetti (Alexandria football-defense), Andrew Bennett (Shenandoah basketball) and Dayton Edwards (Anderson swimming).
"That's very humbling for me because there are so many great athletes that come from this area," Allred said. "I think, in a lot of ways, it's tough to compare sports. I, in an individual sport, all the hard work I put in gets shown when I'm out on that mat versus someone else who puts in the work, but they don't get seen because they're overshadowed by a team or they're the role player on the team."
Allred's greatness is self-evident.
In addition to his two state championships, he made a third trip to the state finals as a sophomore, posted a career record of 146-2 (138 wins by fall), qualified for the Pan-Am Cadet games, and will continue his wrestling career on scholarship at Nebraska later this year.
His two losses came in semistate as a freshman and at the state finals the following year. He won 76 straight matches to close out his career. At this year's state finals, Allred became just the fifth wrestler in IHSAA history to win every state finals match by fall.
"I feel so privileged and so blessed that I had the opportunity to accomplish something like that," he said. "I'm very, very thankful."
One of the youngest members of his graduating class, Allred plans to redshirt his first year at Nebraska, a step he feels will be helpful for his continued growth and maturity.
"It's something that I decided to do because I'm still young, I (didn't) turn 18 until May 28," he said. "I feel like I still have a lot of developing to do. I feel like I'm mature beyond my years in a lot of ways, but there's some natural development that comes with age and that will give me a year to get acclimated to that environment."
His accomplishments are vast and have sparked some debate about his place in area sports history. Not only does he have to be considered one of the great wrestlers in history but also is in the conversation for most dominant athlete, regardless of sport.
"At the end of the day, if that's how people see me, then I love it," Allred said. "I'm going to embrace it and remain humble all the way through it. I try not to take too much pride in that because I don't want to let the opinions of others define who I am."