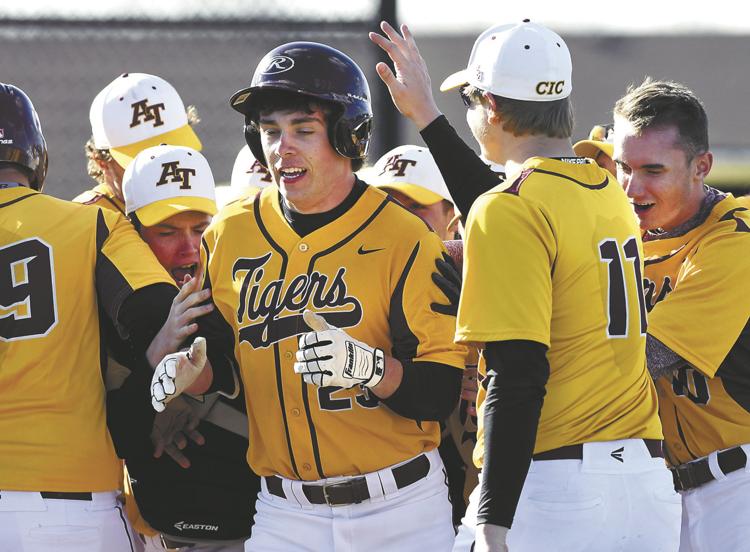 As Alexandria marched toward a Class 2A baseball state championship last spring, Rylan Metz never hinted anything might be amiss.
The slugging right fielder hit .474 and tied for the team lead with five home runs while also leading the entire coverage area with 34 stolen bases – a feat made all the more impressive when he revealed after the season he'd been playing all year with a quad injury that worsened during the postseason.
"I just rested it as much as I could during the week and then played as hard as I could during the games," Metz told THB Sports after the championship game.
He went 2-for-2 in that contest, walked and scored a run during a critical sixth-inning rally in the Tigers' 4-3 victory against Southridge. Metz and his teammates lost the chance to defend their title when the spring sports season was canceled because of the coronavirus pandemic, but the unassuming superstar took advantage of his opportunities throughout his career and has been named the 2020 Boys Johnny Wilson Award winner.
In a packed field of contenders that included Lapel boys tennis state finalist Jesse McCurdy – a national merit scholar and the Boys Scholar Athlete award winner – and Pendleton Heights star Kamden Earley, Metz emerged as a deserving winner.
He led Alexandria to a 6-5 record on the football field last fall, completing 70.4% of his passes for 2,576 yards and 31 touchdowns with just four interceptions. On the basketball court, Metz averaged 10.6 points and 4.9 rebounds as a senior for a Tigers team that claimed the program's first Madison County title.
In addition to his offensive prowess last spring, Metz went 8-0 with a 2.17 ERA as a pitcher. He was among the leading contenders for the THB Sports Baseball Player of the Year award when the season was canceled, and he'll stay close to home to play baseball at Anderson University this year.
Metz finished his Alexandria career with 12 varsity letters and all-state recognition in both baseball and football.
"He's the type of kid that has untapped potential," Tigers baseball coach Jeff Closser told THB Sports. "He does well in everything he does. When he starts playing just one sport at AU, he is just going to explode. He has all kinds of ability that people haven't seen yet."