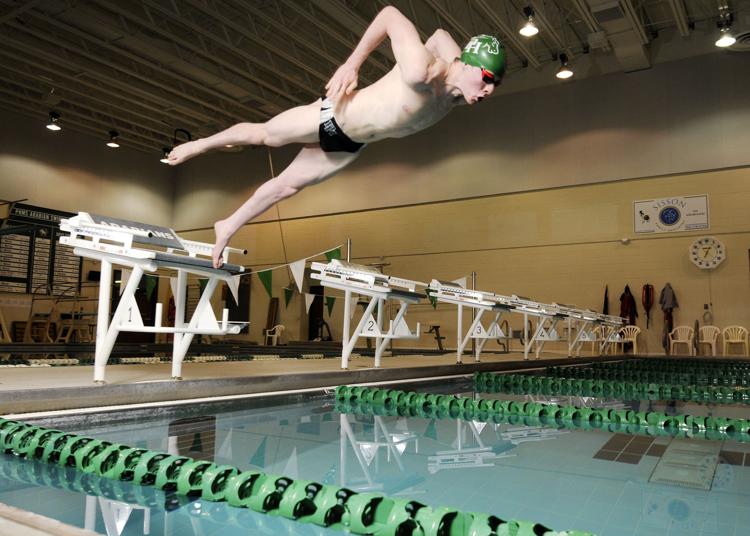 When hard work, consistency and excellence intertwine, good things are bound to happen.
For the second straight year, Pendleton Heights senior Cameron Kordes embodied all three concepts, earning for himself repeat honors as the Boys Swimming Athlete of the Year.
Last year, Kordes shared the award with his teammate, Luke Wihebrink, who has since graduated. This year, thanks in large part to qualifying in four sectional event finals, he will carry this trophy alone.
"It's a great honor," Kordes said. "I was really surprised last year when Luke and I won it and, again this year, I'm surprised. It's really just an honor to be nominated for anything."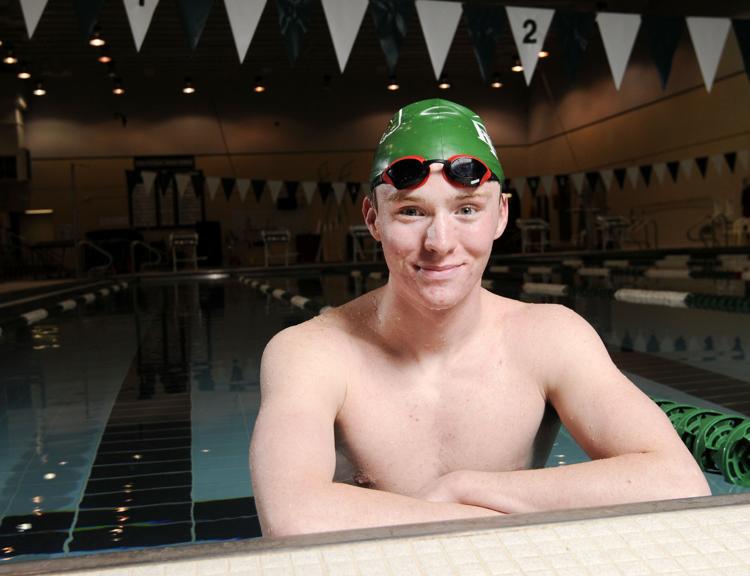 There should be no surprise here. Kordes followed up placing third in four events (200 medley relay, 200 individual medley, 100 butterfly, and 400 freestyle relay) at the Hoosier Heritage Conference meet earlier in the season with another strong showing at the highly competitive Hamilton Southeastern swimming sectional in February.
"He could have finished in the top eight at sectional (in) pretty much whatever he decided to swim," PH coach Mindy Hertzler said. "He is just a great all-around swimmer with a really great work ethic."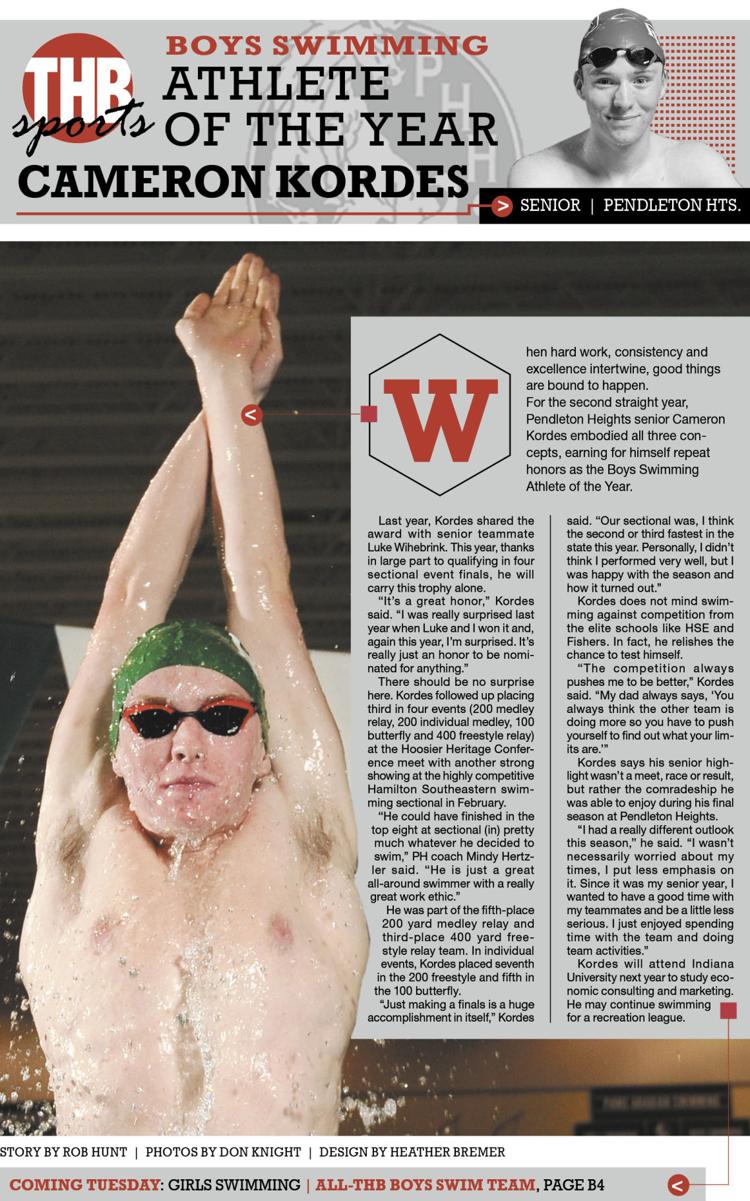 He was part of the fifth-place 200 medley relay and the third-place 400 freestyle relay team. In individual events, Kordes placed seventh in the 200 freestyle and fifth in the 100 butterfly.
"Just making a finals is a huge accomplishment in itself," Kordes said. "Our sectional was, I think the second or third fastest in the state this year. Personally, I didn't think I performed very well, but I was happy with the season and how it turned out."
Kordes does not mind swimming against competition from the elite schools like HSE and Fishers. In fact, he relishes the chance to test himself.
"The competition always pushes me to be better," Kordes said. "My dad always says, 'You always think the other team is doing more so you have to push yourself to find out what your limits are.'"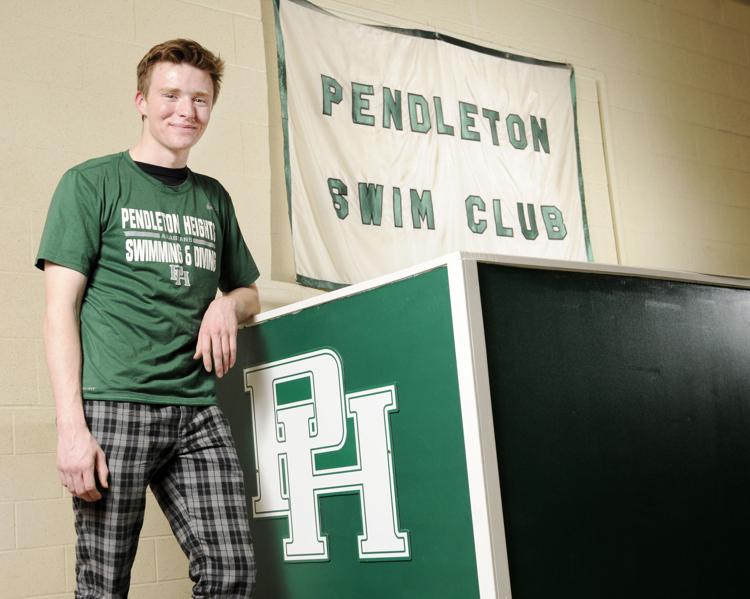 Kordes says his senior highlight wasn't a meet, race or result, but rather the comradeship he was able to enjoy during his final season at Pendleton Heights.
"I had a really different outlook this season," he said. "I wasn't necessarily worried about my times, I put less emphasis on it. Since it was my senior year, I wanted to have a good time with my teammates and be a little less serious. I just enjoyed spending time with the team and doing team activities."
It all added up to a rather enjoyable season for Kordes. In addition to his senior accomplishments, the Arabian record board that hangs poolside is dotted with his name, school records he had set previously.
"I'm extremely satisfied with that accomplishment," he said. "It was a lot of hard work, dedication, and time, and it paid off. Especially with the relays, we all worked hard in the offseason and gave it 110 percent."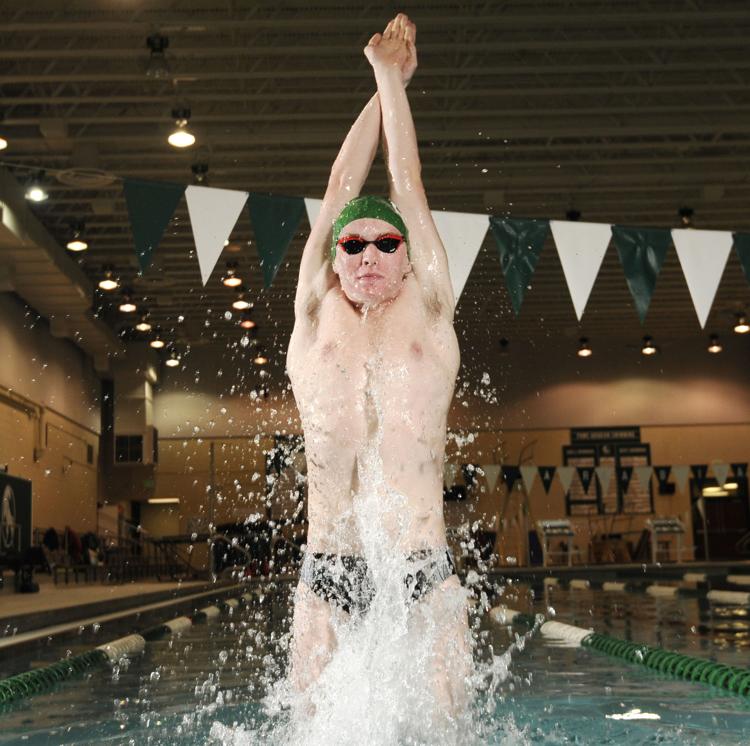 The Kordes legacy at Pendleton Heights? He says hard work and good times.
"Hopefully that a lot of hard work pays off," Kordes said. "It takes a lot of dedication and time, hopefully they'll remember the fun times we had."
Kordes will be attending Indiana University next year to study economic consulting and marketing. He says he may continue swimming for a recreation league while in Bloomington.