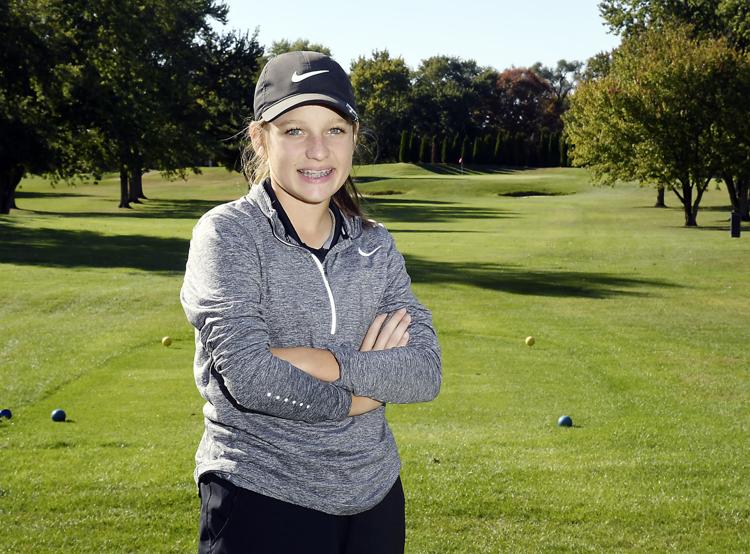 That she had success as a high school freshman was hardly a surprise. Macy Beeson had been preparing for this her whole life.
She had been playing since the age of 3, falling in love with the sport of golf while joining her father, Ryan, on his frequent trips to the course. She began entering tournaments at 10 years old and was playing with the leaders within a few months. It was not long before she was outplaying her age group by so much she needed a new challenge and began playing against the older players and with greater course distances.
And the success just kept coming.
Her arrival at Lapel last fall came with a great deal of fanfare and expectations, and by the time her season came to an end after the second round of the state golf finals, it was apparent the fanfare was warranted and the expectations had been exceeded. Beeson was named the THB Sports Girls Golf Athlete of the Year in the fall and is now the area's overall Girls Athlete of the Year.
Not bad for a freshman.
"My expectations were mostly to play my best, I mean I'm just a freshman," she said. "I want to break school records, that's what a lot of people's goals are, but mostly to have fun with the team, that was a big one. It's been great, I love high school golf."
It showed as Beeson posted an even-par or lower score in two 18-hole tournaments and three 9-hole meets during the season. She was runner-up at the Noblesville sectional with a 79 and fourth at the Lapel regional with a 73 as her team advanced with third-place finishes in both meets.
During the season, Beeson never let up with her practice regimen.
"After practice, I'd stay here and hit some more," she said. "Or, my dad would pick me up and we'd go to a lesson or another course and hit. And, even at home, we have a practice green out back and I'd go out there and hit 100 putts every night."
With long-term golf goals in mind, a decision had to be made about Macy's schooling. She could choose to home-school, which would give her greater opportunities to practice and to enter tournaments, or she could decide to play for the high school.
She is happy with the decision they made.
"I love the team and I love high school," she said. "I feel like home schooling was just to get more practice or more big tournaments in, but we picked public school this year just for social-wise and the high school team."
The team and coach Dylan Crosley are happy as well after Beeson led the young Bulldogs to the state finals for the first time in school history. She placed 13th individually with a 154 over the two-day finals and the team — the smallest among the 15 at the championship — also finished in 13th place.