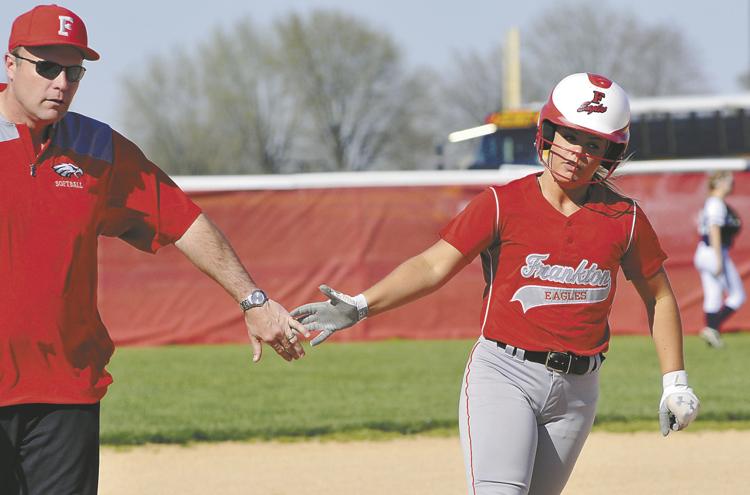 For a three-sport star like Frankton's Aleyah Rastetter, the 2019-20 school year was unusual, to say the least.
While she played volleyball in the fall, she passed on a fourth season with the Eagles basketball team to focus on softball, her primary sport and the one she will play collegiately.
Then, the coronavirus pandemic happened and the postponements and cancellations began in March, including all spring sports in Indiana. With that, Rastetter's high school career was prematurely halted.
Despite the brevity of her senior athletic season, Rastetter's body of work is very strong. She leaves behind a legacy of leadership, winning and staggering individual accomplishments and has a career very deserving of the 2020 Girls Johnny Wilson Award.
Rastetter wins the award in her third year as a nominee, which is in and of itself a great accomplishment.
But on the field and the court, she was nothing short of spectacular.
In addition to piling up 11 varsity letters, she was a captain for all three teams, was named All-Central Indiana Conference a total of five times, earned All-State honors in 2019 for both volleyball and softball, was All-THB four times, led the softball team in home runs, RBI and slugging percentage all three years, reached the 2,000 career assists milestone for the volleyball team and led the Eagles basketball team in 3-point and free-throw shooting one year each.
In three years of softball, she collected 113 hits, including 27 doubles and 24 home runs, and was a career .422 hitter.
Those accomplishments just scratch the surface of all she has done with Frankton.
"I've coached a lot of good hitters, and she ranks right up there," Frankton softball coach Jeremy Parker said earlier in the spring. "… She was first team All-State last year as a junior, and there was a good chance she was going to get to represent Frankton in the All-Star game this year."
Rastetter also did a lot of winning. She was part of a sectional championship in all three sports during the 2018 calendar year. As a sophomore in the spring of 2018, she helped the basketball Eagles advance to semistate before leading the softball team to the sectional championship and, as a junior that fall, led the volleyball team to its first sectional title since 1996.
Because it was not enough to just be athletically outstanding, Rastetter was just as good in the classroom. She is a three-year member of both the National Honor Society and National Technical Honor Society, graduated with a 4.012 GPA and tallied an 1130 on her SAT.
She will continue her softball and academic career next year at Taylor.
But it is the team achievements she is most proud of.
"One thing that actually stands out to me is that I won a sectional championship in each one of my sports," she said.