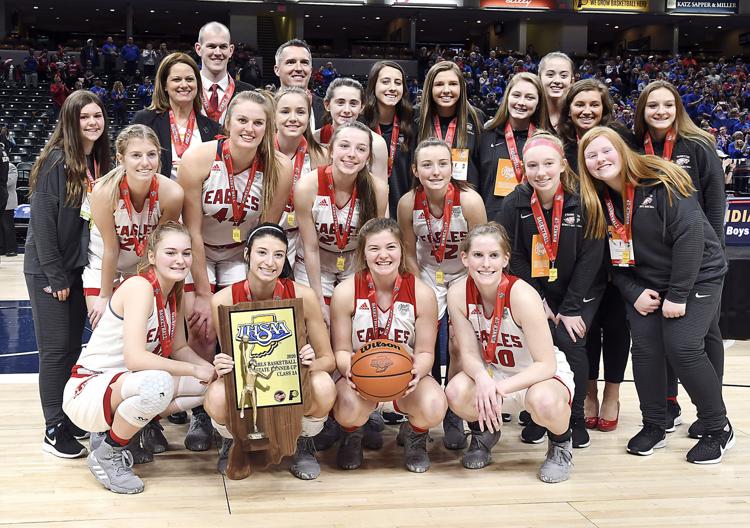 Few outside the girls basketball team's locker room expected Frankton to win its opening postseason game in February.
Third-ranked Monroe Central came in with hopes of competing for a state championship and still fresh memories of an upset loss to the Eagles just two years earlier. But a shifting defensive game plan and a timely offensive outburst by junior Ava Gardner lifted Frankton to a 50-47 upset victory and set off a historic postseason run.
For the first time in program history, the Eagles reached the Class 2A state finals. The improbable romp through the state tournament also earned Frankton the THB Sports Team of the Year award.
"We truly believe that it takes a team (to win)," Eagles coach Stephan Hamaker said after the upset victory against Monroe Central. "It takes a village. And you're a lot harder to beat when you've got a whole village out there fighting for you instead of just one kid."
There was no shortage of able warriors throughout Frankton's journey, and the team set a high bar for future generations.
Addie Gardner, Grace Alexander and mental attitude award winner Bailey Tucker will not be easily replaced. But Ava Gardner, Chloee Thomas and Lauren Bates return to lead a talented group in 2020-21 that has designs on pushing the program's ceiling even higher.
"Now that we've figured out that we can get here, the goal is to not just win a sectional," Hamaker said at Bankers Life Fieldhouse after the loss against Linton-Stockton in the state title game. "The goal is to get back, right? And I think that's a big shift in mindset because up until now it's always been 'win sectional and see what happens.' But now that we've been here I think, as a coaching staff, we've really gotta push that. I think the elite stay the elite by not getting into the easy lane and saying, 'Well, we did it that one time.'"