The Herald Bulletin challenged its readers to submit their yummiest cookie recipes. From the dozens received, here are the finalists:
Persimmon Drop Cookies
Linzer Cookies
Caramel-filled Maple Pecan Cookies
A panel of taste testers from the THB staff sampled each ... and the winner is ...
LINZER COOKIES WITH RASPBERRY JAM
Submitted by Carol Arnold of Anderson
It was a tight race, coming down to the scorecard of the final taste tester. When the final ballot was counted, the Linzer Cookie took home the top prize.
Our panel enjoyed the sweetness of the raspberry jam paired with the buttery delight of the cookie.
Managing editor of digital Heather Bremer, who prepared the cookies, said the Linzer Cookie was the most difficult to make.
"There's supposed to be a lattice pattern on the top," Bremer said. "As you can see from the pictures, I wasn't quite able to accomplish that. At least our winner Carol will know the taste was on point, even if the look wasn't the prettiest."
The Persimmon Drop Cookies, submitted by Sarah Gillespie of Anderson, finished second. The Caramel-Filled Maple Pecan Cookies, contributed by Janet Travis, came in third.
No cookie recipes were submitted for the health-conscious category. Therefore, first place will receive the Golden Spoon award and a gift certificate from one of our sponsors. Second place will also receive a gift certificate from a sponsor, which include McIntyre Jewelry and The Orchard Shop at Minnetrista.
Here are the finalist recipes: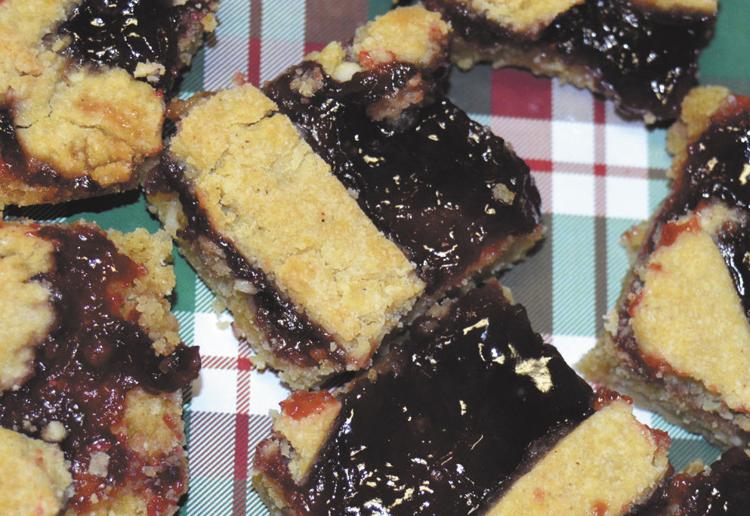 LINZER COOKIES WITH RASPBERRY JAM
Submitted by Carol Arnold of Anderson
Ingredients
1 1/2 cups all-purpose flour
1/4 cup sugar
1/2 teaspoon baking powder
1/2 teaspoon salt
1/2 teaspoon cinnamon
1/2 cup light brown sugar
1/2 cup butter
1 slightly beaten egg
1/3 cup blanched almonds
1/2 cup red raspberry jam
1 slightly beaten egg yolk
1 teaspoon water
Directions
Sift together flour, sugar, baking powder, salt and ground cinnamon.
Stir in light brown sugar.
Cut in butter until mixture is crumbly.
Add egg and ground almonds.
Mix with a fork. Reserve ½ cup for topping and mix 2 tablespoons of flour into reserved mixture.
Chill 1 hour.
Press remaining mixture evenly into 9-by-9-by-2 baking pan.
Spread with raspberry jam.
Roll out reserved mixture on a well-floured surface to ¼-inch thickness. Cut into ¼-inch strips. Line up half the strips straight across filling with space in between the strips; then lay remaining strips diagonally across filling with space in between the strips. It makes a lattice pattern.
Combine beaten egg yolk and water; brush over lattice.
Bake at 375 degrees for about 25 minutes. Cool on a rack and cut into bars.
---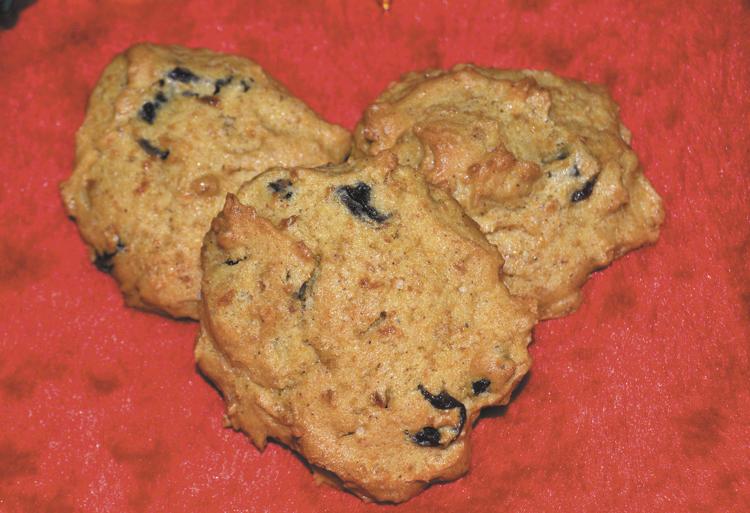 PERSIMMON DROP COOKIES
Submitted by Sarah Gillespie of Anderson
Ingredients
1 cup white sugar
1 cup persimmon pulp
1/2 cup butter
1/2 teaspoon soda
1 egg
2 cups flour
1/2 teaspoon cloves
1/2 teaspoon cinnamon
1/2 teaspoon nutmeg
1 cup raisins
Directions
Put soda with pulp for a few minutes.
Mix or cream sugar and butter.
Add pulp and mix.
Add egg and mix.
Sift dry items together. Add to pulp mixture.
Add raisins.
Drop on greased sheet. Bake at 350 degrees for 15 to 20 minutes.
Don't overbake.
Can add nuts if you like.
---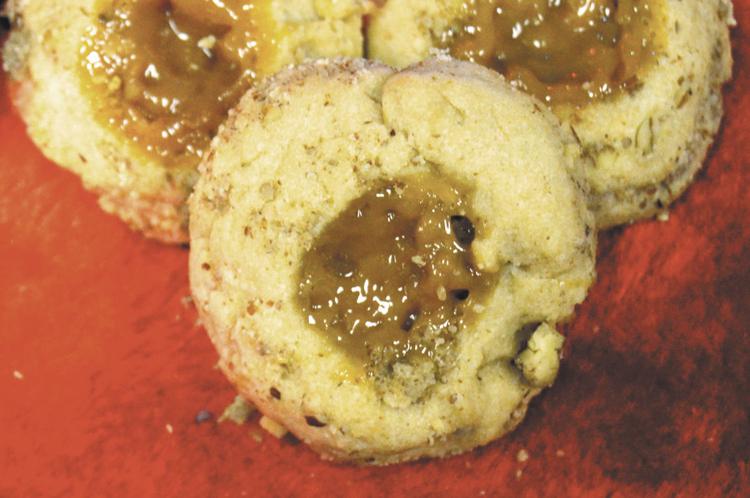 CARAMEL-FILLED MAPLE PECAN COOKIES
Submitted by Janet Travis of Anderson
Ingredients
8 ounces cream cheese, softened
1 cup butter, softened
1/2 cup sugar
2 teaspoons maple extract
2 1/2 cups flour
24 caramels
4 teaspoons half-and-half
1/2 cup finely chopped pecans
Directions
Heat oven to 350 degrees.
Beat cream cheese and butter in large bowl until blended.
Add sugar and extract, mix well.
Gradually add flour, beating well after each addition.
Microwave caramel until melted with half-and-half.
Cool 5 minutes.
Meanwhile, shape dough into 48 1-inch balls.
Roll in nuts.
Place on cookie sheet 2 inches apart.
Indent centers and pour caramel sauce into plastic bag. Squeeze into center of cookies.
Bake 12 to 14 minutes until edges are slightly browned.