Some 35 years ago, the North Central Conference was the beating heart of Indiana high school basketball.
In the eight seasons from 1984-85 to 1991-92, the eight NCC teams won five state championships and produced five runner-up finishes. Four times during that stretch, including Marion's three consecutive championships to start the run, the state final was an all-NCC affair.
The stars were bright — Steve Alford, Jay Edwards, Lyndon Jones, Troy Lewis, James Blackmon and Woody Austin were just a few of the NCAA Div. I prospects who played in the conference during that period — and the stages were among the biggest in the nation.
Four of the country's six largest high school gyms — Chrysler Fieldhouse in New Castle (capacity 7,829), Richmond's Tiernan Center (7,786), Muncie's Walnut Street Fieldhouse (7,635) and Marion's Bill Green Athletic Arena (7,560) — were NCC homecourts at the time.
Lafayette's Marion Crawley Athletic Center (7,200) ranks 11th on the list, and the biggest of them all — Anderson's Wigwam (8,996) — closed in 2011.
Even the league's smallest homecourts — Logansport's Berry Bowl (5,875) and Kokomo's Memorial Gym (5,200) — remain on many high school basketball fans' bucket lists.
Joe Nadaline got to play inside them all at the height of their powers. A teammate of Alford's with the New Castle teams of the mid-1980s, he and the Trojans were treated like rock stars.
"Every time we went anywhere when he was playing, it was sold out," Nadaline recalled. "We played in front of more people than a lot of colleges do."
And it wasn't just the players who fed off the energy.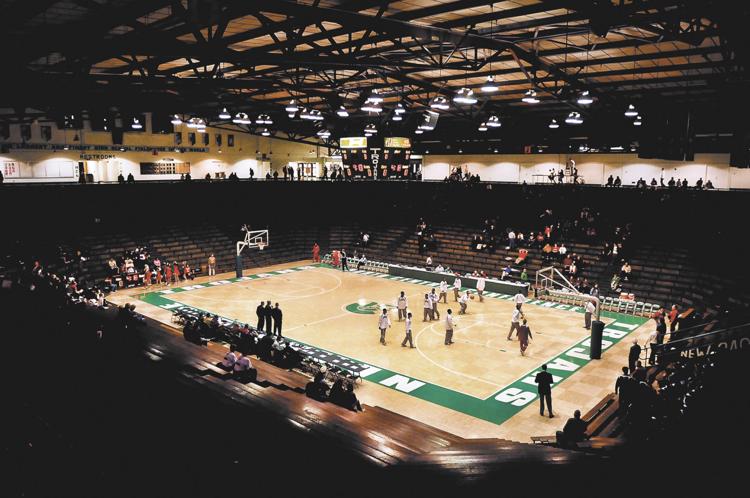 Anderson season tickets were fought over in divorce proceedings. Muncie Central held lotteries for regional seats, even though the host site – New Castle – brought in temporary bleachers to increase the capacity to 9,000. And NCC cheerblocks stretched from floor to balcony, with freshmen eagerly awaiting successive years so that they could move down closer to the action.
The games were community centerpieces, spawning legends still told decades later.
"It was the social event," said Jeff Davis, a 1985 Anderson graduate who was a regular in the student section at the Wigwam. "It wasn't just going to the basketball game. You'd go early and hang out with your friends. And we'd really, really cheer.
"It was a challenge to be louder than the other team's fans. Whoever we played against, they always brought a big crowd, too."
'NO COMPARISON'
Those days, however, are long gone.
As attendance and participation decline across the state, some of the traditional powerhouse programs have been among the hardest hit.
In the early 1990s, Anderson boasted three teams ranked in the top 10 – Anderson, Highland and Madison Heights. All three regularly packed their gyms.
But 30 years later, with Highland and Madison Heights long ago swallowed up by consolidation, Anderson struggles to fill one-third of the stands in the 3,164-seat gym that once belonged to Madison Heights.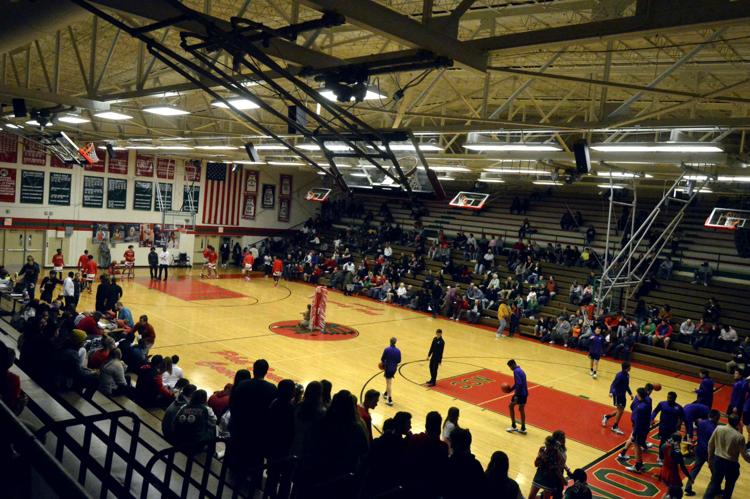 Marion captured its 70th sectional championship this year (before the coronavirus crisis prompted cancellation of the regional, semistate and state finals) and won a Class 3A state title as recently as 2016. But the Giants drew fewer than 400 fans this year for a late-season home game against Indianapolis Manual.
And Marion has been among the most successful former NCC teams on the court since class basketball began in 1998.
Anderson just completed a 2-22 season and has won only two postseason games in the past 11 years. Richmond broke a string of 18 years without a sectional championship in 2014.
Kokomo played in the Class 4A state title game in 2011 but hasn't won a sectional in six years, and Lafayette Jeff is in the midst of a 10-year sectional championship drought.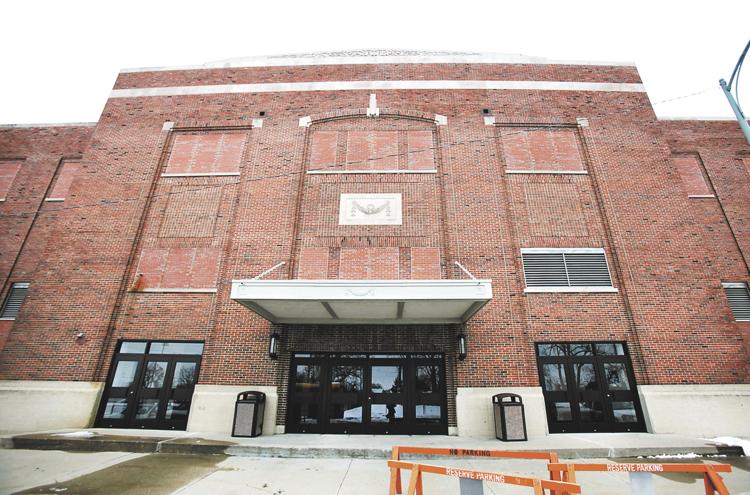 Muncie Central set a record with eight state championships in the single-class era and played for Class 4A titles in 2005 and 2006. But even the mighty Bearcats haven't been past the sectional round since 2014.
When the NCC enjoyed that brilliant eight-year run of success, Marion won three state titles and Muncie Central and Richmond claimed one each. The Red Devils were twice a runner-up, with Anderson, Kokomo and Lafayette Jeff each finishing in second place once.
Now that seems like ancient history.
James Gresh is a 1973 graduate of Muncie Southside, and his parents had held season tickets for crosstown rival Muncie Central since the 1960s.
He was a regular at the Fieldhouse during the NCC's glory days. In recent years, he couldn't bring himself to go back for a live game until this season.
He was disappointed in what he saw.
"A friend I work with still goes, and he keeps inviting me," Gresh said. "The Fieldhouse (which recently reopened after tornado damage) looked nice, and it brought back memories. ... But it's no comparison to the past.
"It was only about a fourth full. It's kind of sad, because you're used to the place being packed. It was a different atmosphere. I'm not sure it will ever get back to the way it was. Probably not."
The communities of the former NCC schools have much in common, including demographics and an economy historically driven by the auto industry. When the factories shut down, the cities' tax base eroded, populations declined and quality of life diminished.
OUTSIDE THE NCC
Similar struggles have been seen throughout the state.
The effects of urban flight are still being felt in Indianapolis, where the basketball programs at metropolitan schools have taken a back seat to emerging township powers such as Lawrence Central, Warren Central and Pike.
A little farther north, in Hamilton County, the exodus to the suburbs created relatively new schools in Hamilton Southeastern and Fishers, and each have enjoyed quick success on the basketball floor.
On the opposite end of the spectrum, consolidation has rarely created the super teams some had predicted.
Anderson has struggled mightily with just one winning season since combining with Highland, and it was Class 1A Liberty Christian that snapped the city's 70-year state title drought in 2016.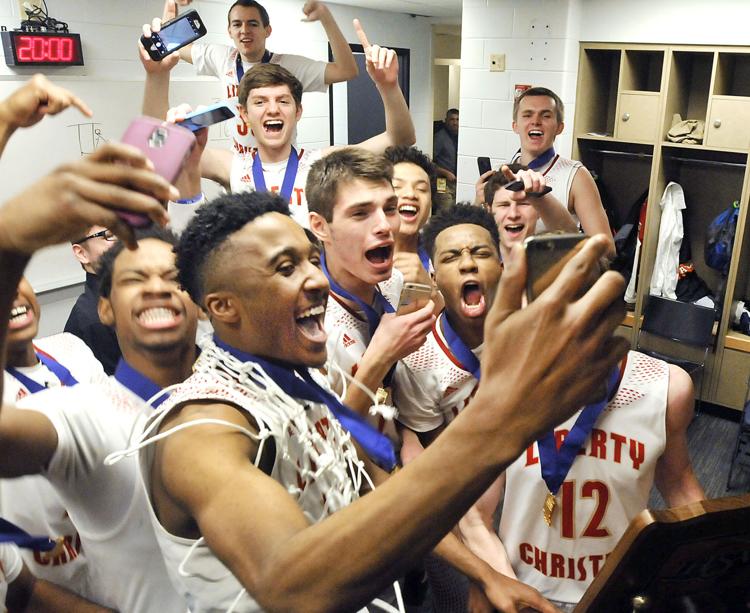 Elkhart will become the newest city to join the trend next year when Memorial and Central combine, taking a little more of the state's big-school basketball tradition with them.
Superstars, however, still have the power to reverse the decline in interest and success for large schools.
New Albany won five straight sectional titles from 2014-18 and peaked with a Class 4A state championship in 2016. Much of that success was fueled by 2018 Mr. Basketball Romeo Langford, now a member of the Boston Celtics after playing one season at Indiana University.
The Red Devils enjoyed a season-ticket base of 3,200 fans during Langford's senior season, and even though that number has been cut nearly in half in the two years since, it's still 500 tickets higher than the decade before Langford's arrival.
"I'm hoping people enjoyed it so much they wanted to keep coming back," recently retired athletic director Don Unruh said. "I think our attendance is on an up-click. ... It seems like there was a period of times where it wasn't a popular thing, but now it seems like the kids are coming out and enjoying themselves."
Nadaline sees student interest as one key to bringing the glory days back.
The students drive the rest of the community in many ways. When they're excited, it's infectious. The gym gets louder, the games feel bigger and the lights seem brighter.
But many current students have never seen a high school gym filled with 8,000 people.
Nadaline came to Anderson as an assistant coach in 2000 and took over as the Indians' head coach from 2011-12 to 2014-15. For the past five years, he's been calling games in and around Madison County as a radio analyst.
He has as good a perspective as anyone – having seen the game at the highest levels through the lens of a player, coach, media member and fan.
He believes looser transfer rules have taken away some of the game's sense of community and spread the talent around to some unexpected places.
TALENT FLIGHT
It's no longer critical to play at a traditional powerhouse to catch the eyes of big-time college recruiters.
Texas Christian University star Desmond Bane was a standout at Class 1A Seton Catholic in Richmond. Eugene German joined him on the Indiana All-Stars in 2016 and made the jump to Northern Illinois from Class 1A Gary 21st Century.
Purdue sophomore Eric Hunter was a Class 1A state champion at Indianapolis Tindley in 2017, and Caleb Furst – who led Fort Wayne Blackhawk to the 1A state title last season and helped the Braves to the No. 1 ranking in Class 2A this year – will join him in West Lafayette next fall.
"We live in a different time now," Nadaline said. "But the basketball's as good as it's ever been talent-wise."
NCC teams are getting a smaller share of the talent, and also suffering from a more difficult route to postseason glory.
Before class basketball, most of them hosted sectionals populated by smaller schools. For some, the sectional was almost like a bye into the regional.
All eight of the NCC teams rank among the top 13 schools with the most sectional championships; Kokomo leads the way with a whopping 74. Lafayette Jeff won 29 straight sectionals through the 1972 season, the longest streak in state history.
But class basketball dictates that NCC teams run into tougher competition, from schools of their own size, in the sectional and all the way through the state tournament.
In the 22 years before the introduction of the four-class tournament, NCC teams won eight of a possible 22 state championships. Since then, in 22 years of class basketball, they've stepped to the winner's podium at the state finals just three of the 88 times medals have been hung on victors' necks.
Less success on the floor has repelled top-level players and drawn fewer fans to the stands for NCC games.
When he took his three sons to the Wigwam for a game in 2010, the year before it was shuttered, Davis, the 1985 Anderson grad and former Indians fan, found a surreal scene that he described as "almost like death."
"The crowd was super small, and you could sit wherever you wanted," he recounted. "It had lost all of its luster. It was a shell of what it used to be. It was depressing really that it came to this. The sights, the sounds and smells were still there, but the excitement was gone."