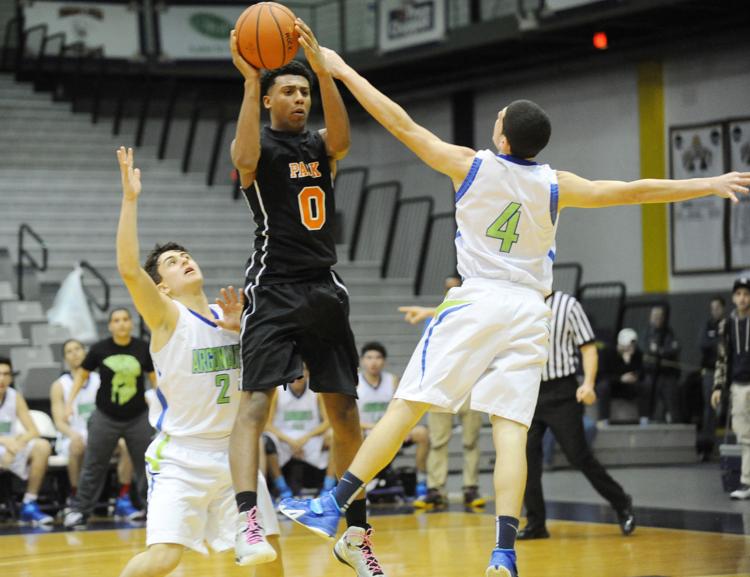 St. Andrew's School coach John O'Connell recalled the first varsity basketball team he coached at the Boca Raton, Fla., school in 1985.
Only one player on the squad had experience playing in an organized basketball game with officials.
"The University of Miami didn't have basketball then," O'Connell said. "The Miami Heat weren't around. The Orlando Magic weren't around. So you could only imagine what basketball was like (in Florida). AAU certainly wasn't a big thing yet at all down here."
Thirty-five years later, high school hoops is heating up in Florida. According to National Federation of High School statistics, participation in the Sunshine State increased by 53% (from 14,172 to 21,652) from 2009-10 to 2018-19.
Florida bucks the trend in basketball hotbed states like New York and Indiana. As chronicled in this special series, participation is down by 11% over the past decade in the Hoosier State. The decline in New York is just a percentage point less.
Meawhile, in Florida, the popularity and success of the Heat and Magic in the NBA and high-profile in-state college teams (Florida, Florida State and Miami) have generated more interest in basketball at the grassroots level, according to O'Connell.
Today, it's much different than 1985. Today, most players on the sixth-grade team at St. Andrew's have played in 100 organized basketball games or more.
"The youth basketball, club basketball and travel basketball, it's unbelievable how many tournaments and teams there are," O'Connell said. "These are kids that are playing out of season, and that didn't happen in the '80s."
Florida Atlantic men's basketball coach Dusty May, an Indiana University grad and former IU basketball manager and video coordinator, said population growth within the state has fostered rising participation in the sport. Florida's population has increased by close to 14% in the past decade, according to U.S. Census figures.
May said increased participation has led to a higher level of play within the state, benefiting smaller Division I college programs such as FAU in Boca Raton, as well as the flagship state schools.
"Florida is a transient state," May said. "You've got a lot of East Coast transplants where we are and, obviously, basketball is very popular throughout the Eastern seaboard. And then you have the Midwesterners on the other side of the state, and we all know how popular basketball is in Big Ten country."
TEXAS DECLINE
Two other Sun Belt states, Louisiana (up 29%) and Alabama (up 15%), have seen notable gains in high school boys basketball participation over the past decade. But Texas, despite a population growth of close to 15% during that stretch, has witnessed high school boys' basketball participation decrease by 19%.
Jamey Harrison, deputy director of Texas' University Interscholastic League, which oversees high school athletics, said sports specialization has accelerated the decline. More high school athletes in Texas, Harrison said, are playing one sport year-round rather than the traditional rhythm of three sports — one for each high school season.
"I also think that we have better data collection models and methods now than we've had previously. All of that plays into the numbers that you see," Harrison said. "We never like to see a decrease in participation, but we don't view it right now as the sport being in trouble in Texas in any way."
Rick Shirley, executive director of the Texas Association of High School Basketball Coaches, hasn't heard that high school hoops coaches in the state are having trouble getting players to come out for varsity, JV and freshman teams. Shirley coached high school basketball in the Houston area for more than 30 years before taking over as TABC director 18 years ago.
"Schools are adding things, like water polo in the larger schools, and then, of course, there's video games," Shirley said. "Some of the kids, they aren't as interested in doing physical things. They want to sit in front of the computer. We're certainly trying to promote as much as we can, but we don't have any definite plan of attack."
BIG APPLE DECAY
In New York state, where boys basketball participation has decreased by 10% over the past 10 years, long-time New York City high school coach Ron Naclerio has seen a recent trend of top-flight players leaving the city for prep schools in other states.
"Some of the kids get people around them that think leaving New York and going to a prep school is the answer," Naclerio said
Naclerio, who has won more than 800 games in 39 seasons as head coach at Cardozo High in Queens, points to two recent examples of high-profile players who left other Queens high schools: University of North Carolina forward Cole Anthony and University of Illinois freshman center Kofi Cockburn. Both played their senior high school seasons at Oak Hill Academy in Virginia.
"It's bad when the top players that are getting whatever they need in New York, the exposure, the competition and their grades, leave," Naclerio said. "I think it will come back. … New York still has the numbers, and it is still the mecca as far as the biggest city."
At ground level, Naclerio said, he's seeing organized league competition in New York City, but fewer are kids playing one-on-one, two-on-two or three-on-three in city parks.
"Kids are getting too caught up in playing in leagues (instead of) just going to the park and grinding it out," Naclerio said. "I know all of the great ones in New York over the years. They got up on a Saturday morning, went to a park and just played and played and played, maybe went home and had some lunch ... and played until the sun went down."