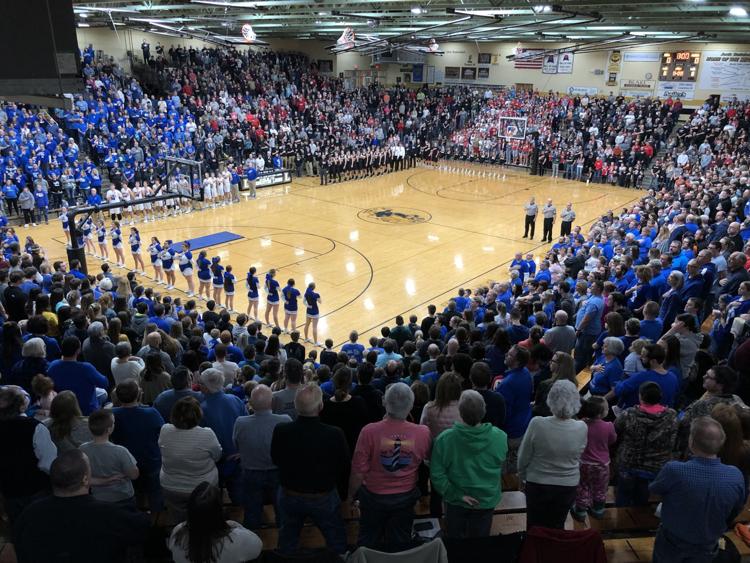 In Daviess and Martin counties, winter Friday and Saturday nights are still about rituals. People still have dinner, then pull seat-backs out of the closet and drive to a place where just walking through the door stimulates all the senses.
Memories are made, collected and displayed in the Hatchet House, Cougar Den, Kavanaugh Kourt, Jack Butcher Arena and the Bird Cage. In each venue, high school basketball fans watch their children, neighbors and classmates participate in a dance that has been choreographed for decades.
These are the places where 84 feet of hardwood provide the canvas for community dreams to flourish with the swish of a net — or be shattered by a 16-year-old forgetting to box out.
These are the temples where folks still faithfully practice the religion of high school basketball in the highest order — and communion can come in the form of popcorn and a Mountain Dew.
This is still basketball in southwestern Indiana as it was, as it is and, seemingly, as it will be — now and forever.
In the bedroom communities between Bloomington and Evansville, names like Washington, Loogootee and Barr-Reeve are still places where the whole is more than just the sum of its parts.
Indiana high school hoops may have suffered since the inception of the IHSAA's class tournament experiment about a quarter century ago, but it has thrived in the Daviess-Martin area. Since just 2002, teams from Daviess, Martin and Dubois counties have been to the state finals 15 times. When neighboring Greene County is added, the number goes up to 18.
Loogootee's tournament runs in the 1970s resembled Milan's runs in the 1950s, except that Loogootee was a little larger than Milan. Whereas Milan famously won the title in 1954, the Lions lost in the final four in 1970 and the state final in '75, falling just short during the traditional tournament era.
In 2012, Loogootee finally reached the promised land under Coach Mike Wagoner, fulfilling a dream that the people of Loogootee had harbored for almost 100 years.
Wagoner, who has participated in the state finals as a player, assistant and head coach, all at Loogootee, believes the relationship between the community and the team is what keeps Lions basketball strong.
"There is no doubt that things changed after Coach (Jack) Butcher retired (as Indiana's winningest coach) and things changed after class basketball began," Wagoner said. "We lost some of our old rivalries from the Washington sectional, but the Class A rivalries have gotten even more intense (with Barr-Reeve and North Daviess).
"Class changed our expectations, and we really felt like if you could get out of our sectional, you had a chance to go to state."
Loogootee regularly draws large crowds, particularly when the Lions play North Daviess or Barr-Reeve.
"I've been to games up north and the crowds are not the same, regardless of how good the team is," Wagoner said. "I think it's partly because of how knowledgeable the fans in this area are and how much they respect good basketball."
At Loogootee, merely playing basketball isn't a generational expectation — winning is.
"I remember Bryant Ackerman (who was on Wagoner's 2012 championship team) telling me ... all he thought about from fifth grade on was to be the senior leader on a state championship team," Wagoner said.
HATCHET HOTBED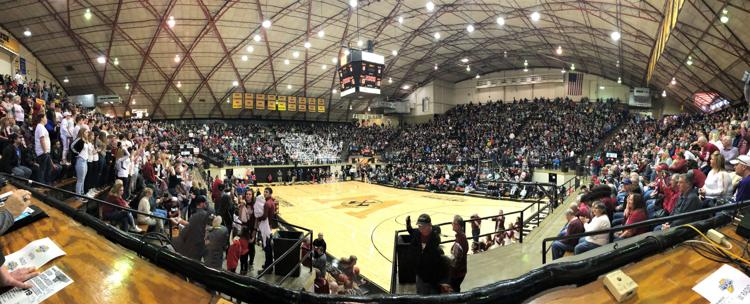 Washington was the epicenter of Hoosier Hysteria from the early 2000s to the mid-2010s, when it was blessed to have three towering boys from the Zeller family — Luke, Tyler and Cody — and won four Class 3A titles.
The Zellers were all anointed Mr. Basketball, as the state's best senior player, and went on to play major college basketball and in the NBA. Washington also produced two other Div. I players and another Indiana All-Star during its brilliant stretch.
There was a steep decline in attendance immediately after the "Zeller Era," and it's been a while since the Hatchets have filled the 7,100-seat behemoth known as the Hatchet House.
But the arena was completely full for the semistate last year, and crowds were robust during the 2019-20 season, as well.
Washington athletic director Larry Cochren has a varied perspective on basketball across the state over the past four decades. He was a player at Southridge, a hot spot for Dubois County hoops in the early '80s, and was an award-winning AD at Evansville Bosse and Richmond.
"The state of basketball is alive and well in southern Indiana," Cochren said. "We have had great crowds at girls and boys games. I have been to games in other parts of the state and in Evansville, and they haven't been as strong. I think a lot of it has to do with ... being in a winning mode at that time."
Cochren believes community continuity is the lifeblood of high school hoops in southwestern Indiana.
"I think a lot of people stay in their communities around here, they have families and it is a very consistent situation," he explained. "There is a standard around here where kids' fathers and mothers played, and it is just kind of expected."
The Washington AD also pointed to a local deviation from the statewide and national trend in high school sports participation.
"In a lot of the places I've been, you just don't see the three-sport athlete as much anymore. Here at Washington we have had a lot of two and three-sport kids," he noted.
BRINGING IN THE BEST
North Daviess, set in a rural area just off Interstate 69, adds to the rich tradition of high school basketball in the area, in part by drawing some of the best Class 1A, 2A and 3A teams in the state to an annual three-day tournament in December.
Not only are Barr-Reeve, North Daviess and Loogootee part of the tourney, but state powers such as Fort Wayne Blackhawk and Indianapolis' Park Tudor have made the long drive to play against some of the best squads in southern Indiana.
The tournament pulls in about 3,500 fans a day, drawing some of the biggest crowds many of the players will ever entertain. Teams such as Southridge, Forest Park and Clay City have also played in the December shootout before making extended tournament runs.
In December 2019, Blackford and its star, Luke Brown, played, not only giving his team a chance to size up the competition down south, but exposing the knowledgeable and passionate local fans to a generational talent.
A LOT LIKE MILAN
Barr-Reeve has been, perhaps, the Indiana school most akin to Milan in recent decades. The team is just a group of kids from an Amish community, where Amish traits like hard work and focus describe the basketball program, as well.
Located seven miles from Washington, Barr-Reeve has been to the state finals six times since 2002. Although the Vikings have captured the big prize just once during that span, no one in the 812 area code would be surprised to see one or two more trips to state in the next few years.
Head coach Josh Thompson is winning at a clip of over 90% in his two years at B-R, while former coach Bryan Hughes was 477-157 (76% winning percentage) during his 27 years at the Viking helm.
Thompson has coached all over southwestern Indiana after playing at Bloomfield and going to state in the first year of the multi-class system. He coached at Loogootee, Springs Valley, Wood Memorial and Vincennes Lincoln before coming to Barr-Reeve.
"I think high school basketball is just as strong as it was when I played. If you would have asked me 20 years ago, I would have said there was no way it would be as strong as it is today," Thompson said. "We have some great coaches and administrators in this area, but the key is kids take it very seriously.
"We know that they have a lot of other distractions, but our kids make this a priority. One thing about this area is success feeds success and tradition. We have so many former players who come back to help out, especially with our younger kids."
With that commitment to basketball passed down from generation to generation, the Martin and Daviess county area remains a stronghold of Hoosier Hysteria, where gyms are packed on Friday and Saturday nights and little boys still dream of state championships.