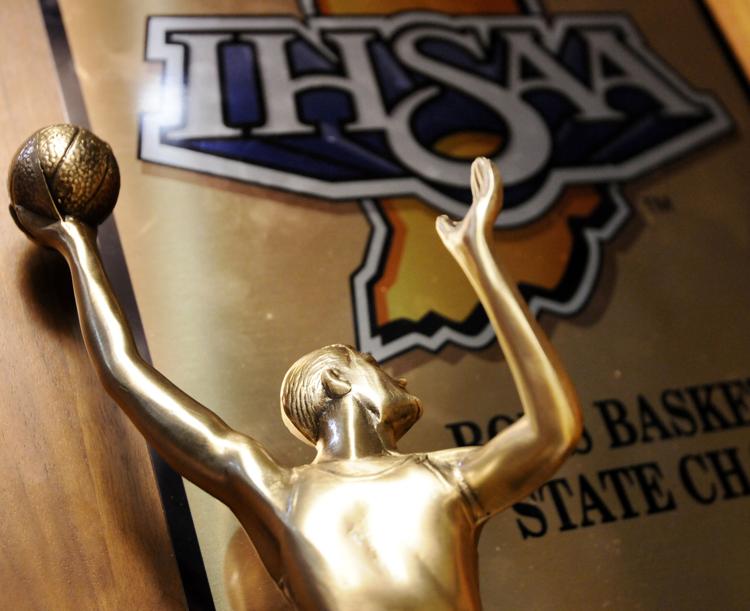 The banner hanging high above the gym floor might as well have been the holy grail.
For Joel Wonder in the mid-1980s, it seemed just as mythical and equally unattainable.
For Wonder and the other basketball players at Worthington Jefferson High School, the banner served as constant motivation through every home game, practice and offseason workout. It represented the Ramblers' 1977 sectional championship – the second and final postseason title claimed by the school, which was consolidated into White River Valley in 1990.
Playing in a regional was a nearly impossible dream for Wonder and his teammates. It was widely viewed as the pinnacle of achievement in small-town Indiana during the IHSAA's single-class tournament era.
For Wonder, it was much more than that. A sectional championship represented immortality.
"They were like gods up on the wall," he said of the players represented by the banner.
White River Valley won the sectional in its first year of existence in 1991 and has added five more sectional crowns and four regional championships since – the most recent coming in Class 1A in 2004.
But it's not the same.
Nothing about Indiana high school basketball is.
The fervor that led more than 40,000 fans to fill the RCA Dome for the 1990 state finals is gone. Tiny Milan's underdog run to the 1954 state title is no longer possible. And Hoosier Hysteria packs a little less punch across the state.
Basketball is still Indiana's game. No sport is more popular from the rural cornfields to the city streets, and the passion still runs deep. That's especially true in smaller communities, where local pride still is often inextricably linked to the varsity team.
There are 17 high school gyms across the state that boast a seating capacity of 6,000 or more, and eight of the country's 10 biggest high school gyms are within Indiana's borders.
But will they ever consistently be filled again on Friday and Saturday nights?
Can the glory days return?
Will Indiana high school basketball ever again be the phenomenon it once was?
"I just don't see it coming back," said Wonder, now 52 and a Bloomington resident. "Not the way it was in the hey-day in the 1950s and '60s."
CLASSIC DEBATE
The surest way to start an argument in any watering hole across the state remains to say something — anything, really — in praise of the four-class tournament system.
The raw anger and resentment toward class basketball still runs deep.
The single-class tournament was a part of Indiana's identity, a place where fairy tales could become real, as immortalized in the 1986 movie "Hoosiers."
The pushback against the switch to a class system was powerful in the mid-1990s. The primary argument was that something unique and special would be irrevocably lost.
The class tournament began as a two-year experiment in the 1997-98 school year. It's now at 22 years and running.
For many high school basketball fans, the tournament change is the beginning and the end of what went wrong in the state. The way they see it, if you want to put fans back in the stands and more kids on the rosters, it's simple. Go back to the single-class era.
In a recent CNHI Sports Indiana online survey, 676 newspaper readers responded to the question, "How do you feel about Indiana's current class basketball state tournament?"
Nearly 56% chose "highly unfavorable" or "unfavorable." Just 23% had a "favorable" or "highly favorable" opinion.
The majority view was abundantly clear in comments posted with the survey responses.
"I fought against class basketball when I was a high school principal, as I knew what would happen," Hugh Enicks wrote, "and I was right."
"The game in Indiana is history," wrote an anonymous survey respondent. "Parents are not interested in high school basketball. Now, their kids are not either. The 'genie' is out, and it's too late to put it back in the bottle.
"Hello, look at (the NCAA's) 'March Madness.' Cinderella still has a chance every year, and let the upsets begin."
Another respondent wrote, "It is unfortunate that what once was a Friday night must for both fans and students has become just an activity for the players on the team, parents and limited fans.
"Class basketball has taken away rivalries within communities. For example, there are five high schools in Howard County, and Kokomo used to play each of them. Memorial Gym would be packed. Now Kokomo plays a Fort Wayne team, and there are 200 people there, not 5,000.
"Nobody cares if (the Wildkats) beat a team from Fort Wayne, but they want to see a Kokomo vs. Western game. We are Hoosiers, and on Friday night, we want a game where Milan slays the giant – not a clash of titans."
Class basketball deepened divides within Hoosier Hysteria's fan base and accelerated the decline in attendance and participation. But both trends were already established before the class system was introduced.
From 16,586 players statewide in 1977-78, participation had already fallen to 13,222 the year before class basketball was introduced, according to the National Federation of High Schools.
The first season of the class tournament, 1997-98, participation actually rebounded to 13,833. But by the 2018-19 season, just 10,767 high school players suited up statewide. Participation declined 35% from 1977-78 through 2018-19.
Similarly, state tournament attendance (sectionals, regionals, semistates and state finals included) was already flagging before the advent of class basketball, falling from 981,395 in 1990 to 786,024 in 1997.
The next year, the first of the class system, tournament attendance nosedived to 616,170. By 2019, only 339,891 fans attended. From 1990 through last year, the number of Hoosiers taking a seat to watch tournament action in person declined by 65%.
Even those who see merit in the current postseason tournaments point out other factors eroding the popularity of the sport.
"There is very little community involvement and loyalty," a survey respondent wrote. "Students don't care. They'd rather play video games or take part in other juvenile activities.
"You actually have a large older demographic that attend, but the middle aged only attend if they have a family member participating. Only in the smaller communities do you have a true following, and that is because class basketball gives them a chance."
The problems associated with class basketball go beyond championship probabilities for many Indiana schools, large and small alike.
Hamilton Heights had a 66-minute drive this spring from its home base in Arcadia to the Class 3A sectional in New Castle, and Adams Central drove 72 minutes from Monroe to Manchester for its Class 2A sectional.
Trips of such lengths are far more common early in the tournament than they were under the traditional format. After a long bus ride, teams often play unfamiliar opponents instead of adding to the local rivalries that helped fuel the sport's glory days.
That's why some fans of Hoosier Hysteria favor, if class basketball is here to stay, a realignment that takes into consideration both distance between schools and natural rivalries.
ECHOES OF GLORY
For one late February night at least, the Jungle at Alexandria-Monroe High School is like a time machine.
Athletic director Mickey Hosier is bouncing around the gym floor making sure everything is running in order as the junior varsity game nears an overtime period. Central Indiana Conference rival Frankton is in town, and the place is packed.
It's not quite like the old days, when Hosier and fellow star Chris Hahn led the Tigers to a regional championship in 1995 and the gym more than lived up to its raucous nickname. But the lower level is full, even underneath both baskets, and the upper level has less than one-third of its capacity unfilled.
Hosier has seen basketball from many different angles. His playing days continued at Ball State, and he's been a head coach at several schools for both boys and girls teams. Now, he's settled in as an administrator in his hometown to watch the boys program's gradual rebirth.
Native son Marty Carroll returned to Alexandria as head coach two seasons ago after helping Frankton win a state championship as an assistant. He's gone 34-18 overall and already has a sectional title under his belt. The arrow is pointing up, and the community feels it.
Especially on this night.
"Frankton's been good for a while now, and we've been pretty good the last couple years, too," Hosier said during a rare break in the action. "Plus, it's a rivalry. Everybody loves rivalries."
And everybody loves a winner.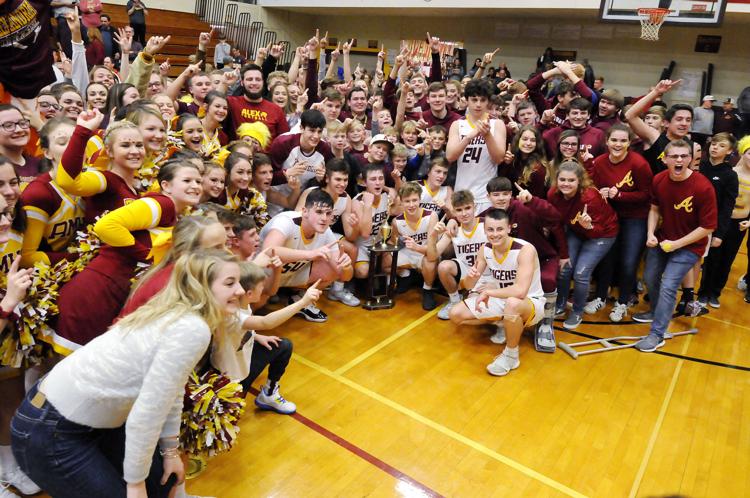 Alexandria won its first boys Madison County championship on this same court in January, and the place again was jam packed. The Tigers will win a thriller on this night, 61-58 in overtime, with the student section overflowing.
The fans came back in droves again for the sectional in March. Alexandria dropped a tight 64-59 decision against Wapahani in the semifinals, then the Raiders knocked off Frankton 46-43 in a thrilling championship game for their first sectional title since 2014.
Winning is a proven cure-all for all that ails basketball programs. Winning against familiar foes is an especially potent antidote.
Class 2A Sectional 40 hasn't changed much in the two decades of the class system's existence, meaning that rivalries have continued to develop.
While the lineup of teams has shifted a few times over the years, the current seven schools — Alexandria, Elwood, Frankton, Lapel, Monroe Central, Wapahani and Winchester — are tightly grouped geographically and highly familiar with one another.
Like the Frankton-Alexandria regular-season game in February, Sectional 40 activates fans' sense of nostalgia, rekindles tournament tradition and stokes local rivalries.
It just means more.
"These kids all grew up together," Hosier said of Alexandria and Frankton. "They've played against each other in every sport. They're friends. It's fun."
THE PLAYERS
Superstars still drive high school basketball.
Damon Bailey — one of Hoosier Hysteria's most famous names — fueled that record crowd in 1990 at the RCA Dome as fans jostled to watch his Bedford North-Lawrence Stars win the state title.
The impact isn't as widespread in the class era, but big names still draw big crowds.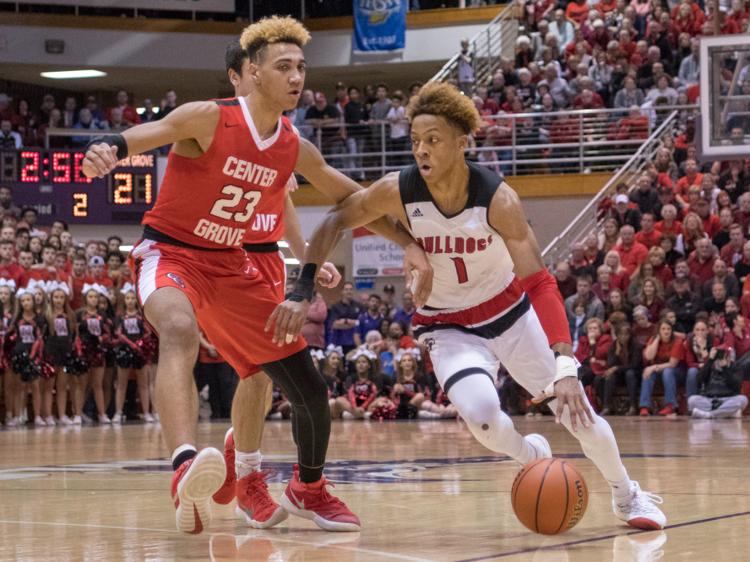 New Albany's Romeo Langford became a household name, drawing sellouts at home and on the road, and won a Class 4A championship as a sophomore in 2016. Even more recently, Blackford's Luke Brown has become a sensation, chasing Bailey's all-time scoring record and reviving fan interest in a program that won just a single game during a three-year period beginning in 2014.
In March, the Bruins were 21-5, ranked No. 4 in Class 2A and sectional champions for the first time since 1991. But the 2020 tournament, beyond sectionals, was postponed and later canceled because of the coronavirus pandemic.
Brown will be back in 2020-21 for his senior season, and Blackford will take part in the annual Hall of Fame Classic at New Castle in December.
"That's a kid people will drive halfway across the state to go watch," said Wonder, who was a basketball referee for more than 20 years.
Of course, the Damon Baileys and Romeo Langfords and Luke Browns of the world are so special precisely because they come along so rarely. They can turn back the clock and fill gyms wherever they go, but they're like a comet blazing through the night sky. Bright and glorious for as long as the ride lasts.
Wonder, an avid Indiana University fan who has no children participating in high school athletics, estimates he attended 20 boys basketball games this past season. He drove to Southport to watch IU-bound Khristian Lander and Evansville Reitz play during an in-season classic, but the majority of his trips were much closer to home at Bloomington South.
The Panthers were 26-0 and chasing their third state championship when the Class 4A tournament was canceled. Star guard Anthony Leal was named Mr. Basketball and will be the third straight award winner to sign with IU — a first in program history.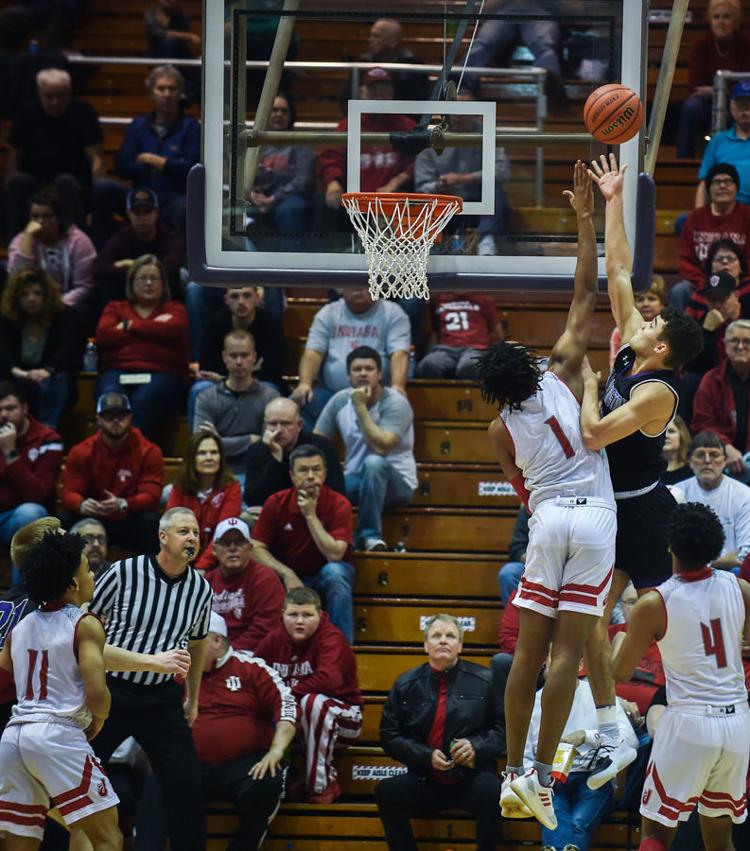 The crowds at Bloomington South were good, Wonder reports, but not like they were when he was attending games 16 years ago during the school's first state championship run in 2004.
Still, the Panthers' success might hold clues for the sport's future.
J.R. Holmes has won a state-record 836 games in 50 seasons as a head coach overall. He's won 693 games in 38 years at Bloomington South.
Leal — like Langford at New Albany — was the product of an intricate youth basketball system that taught kids the basics from a young age and stoked their love for the game. Holmes is a constant at middle school and elementary games around Bloomington.
But he's not checking out the next prospects as much as he is checking in on the coaches.
He wants his system taught at all levels, so that when Panthers make it to the varsity roster, they already understand the style of play and the expectations.
That takes commitment throughout the community. And patience.
The Bloomington South examples suggests that the path back to Indiana's basketball glory days doesn't begin in high school buildings.
"It takes time and the support of the whole community to have a strong youth program," Wonder explained. "But the communities that have those programs have the most success."