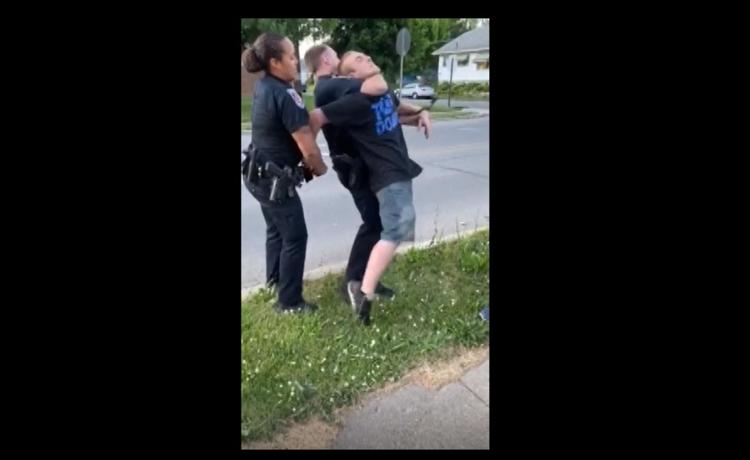 ANDERSON — The investigation of the actions of two officers in a recent arrest will be conducted internally by Anderson police, Mayor Thomas Broderick Jr. said in an email Thursday to The Herald Bulletin.
Officers Brandon Reynolds and Ashley Gravely are on paid administrative leave after Reynolds used a chokehold to take Spencer Dakota Nice, 21, to the ground while Gravely assisted during a Saturday arrest in Anderson. A video shot by Nice's girlfriend during the arrest has circulated on social media.
Broderick said that, under the terms of the contract with the Fraternal Order of Police, discipline is administered by APD administrative staff.
"Under rare circumstances we may and have in the past asked for an outside agency to conduct an investigation," Broderick wrote in the email. "This case is being investigated by a merit officer who is an investigator."
Broderick and APD Chief Jake Brown on June 11 issued a new policy that chokeholds were banned when making an arrest. The Nice arrest occurred two days later.
Brown conveyed the order banning chokeholds via email to the officers, the mayor said, adding that departmental rules require officers to view emails daily. Broderick noted that the arrest of Nice occurred 50 hours after Brown sent the email on the new policy.
Broderick said the investigation is expected to be completed next week and will be reviewed by Assistant Chief Mike Lee, who will make a disciplinary recommendation to Brown.
Any discipline of more than five days' suspension must be submitted to the Anderson Board of Public Safety for action.
Nice said Tuesday that he would file a formal complaint and would demand that Reynolds and Gravely be fired.
Look for The Herald Bulletin's coverage of a 1 p.m. press conference Thursday.