INDIANAPOLIS — Indiana has released initial demographics of those affected by COVID-19 in the Hoosier State.
According to the Indiana State Department of Health, 56% of positive COVID-19 cases in Indiana have been found in patients older than 50 — 18% 50-59 years old, 17.6% 60-69, 12.5% 70-79 and 8.3% 80 years or older.
Figures show 30.6% of patients are between 30 and 49 years of age, with 11.3% between 20 and 29 and 1.8% under 19 years old.
In Indiana, the virus is afflicting women slightly more than men, with 52% of the patients being female, compared to 48% for men.
---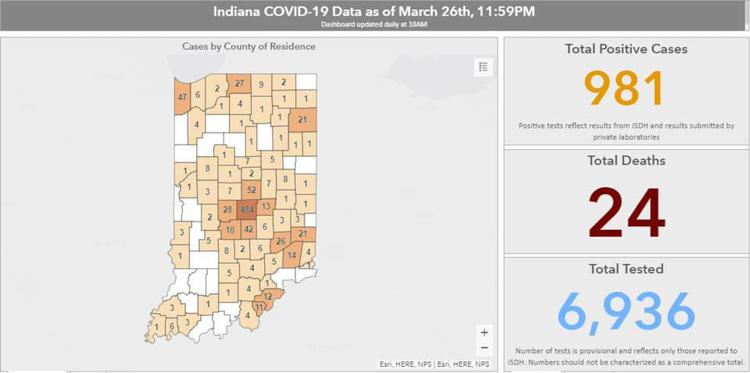 INDIANAPOLIS — The number of COVID-19 cases in Indiana is quickly approaching 1,000 cases, according to the latest figure released by the Indiana State Department of Health.
The ISDH reported 981 positive cases of COVID-19 in Indiana on Friday.
The latest figures also included seven more deaths, bringing the number to 24 in Indiana.
Individuals tested in the Hoosier State number 6,936.
Marion County leads the state with 484 cases. Madison County now has seven, while Delaware County has 8.
One person from Madison County has died in a Hamilton County hospital
Follow this story for updates throughout the day.