PENDLETON -- Seventy-five homes were damaged and 4,000 people were without power but it appears there were no serious injuries after a tornado caused extensive damage in Pendleton on Monday evening.
Click here for MORE PHOTOS and VIDEO from readers on The Herald Bulletin's Facebook page
"The goal is to have the roads open tomorrow so people can get to work," Madison County Emergency Management Agency PIO Todd Harmeson said. "Expect significant improvement overnight but power may not be fully restored."
Residents and first responders reported multiple funnel clouds in the southern part of the county during a tornado warning period from about 8:15 to 8:45 p.m.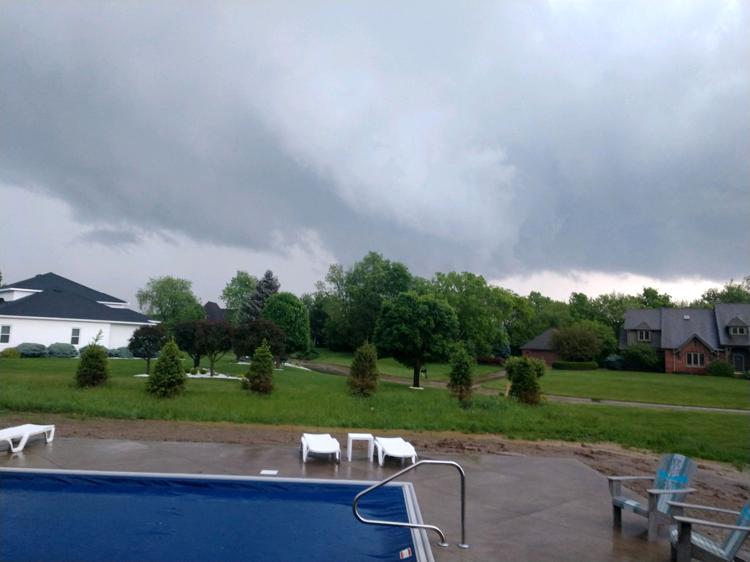 Harmeson said the storm hit about 8:20 p.m. and the damage was isolated to the Pendleton and Huntsville area.
During an 11:15 p.m. news conference, Harmeson said officers had completed a door-to-door canvas of the area and were beginning a second search. He said no injuries had been reported.
Harmeson said that all road were closed in Pendleton due to fallen power lines and downed trees and limbs. A perimeter has been established around the town, and only residents are being allowed in.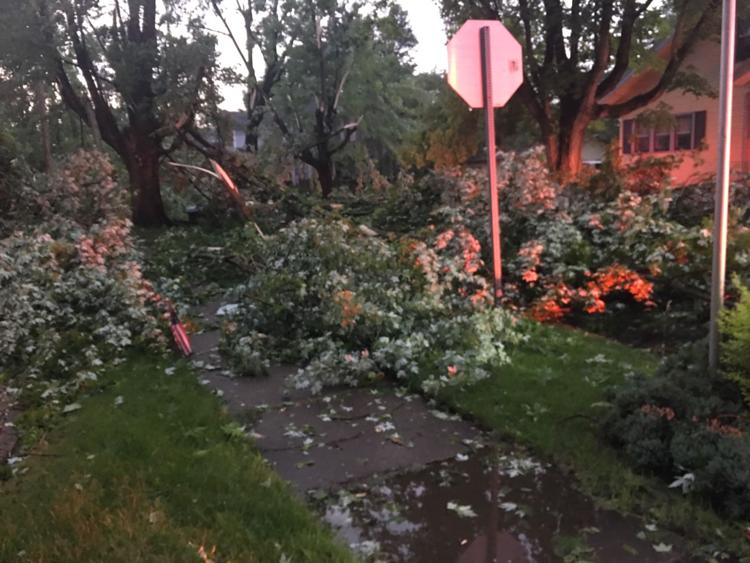 Residents are being asked to shelter in place and wait for assistance because downed power lines are still active, Harmeson said. Those who need shelter can go to the high school, where the Salvation Army and Red Cross are assisting.
Harmeson said South Madison Community Schools have canceled classes Tuesday.
Damage ranged from downed trees and limbs to trees into homes, Harmeson said. There has been some damaged reported in rural areas, mostly downed power lines and trees.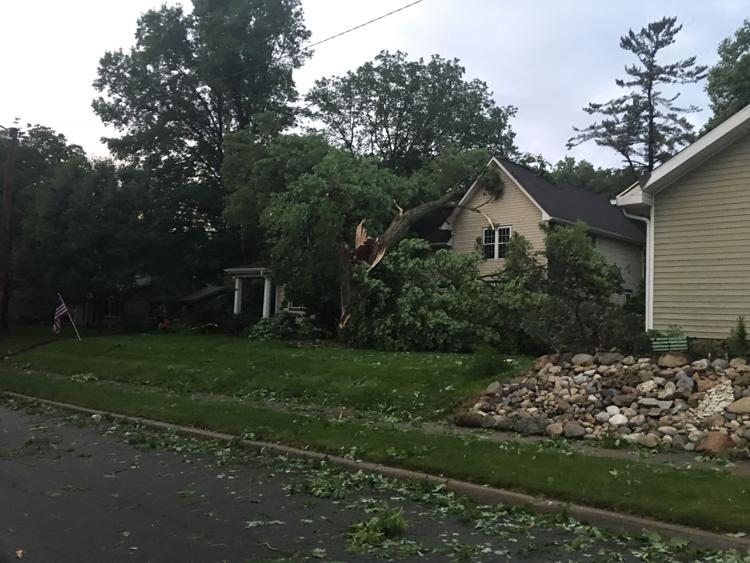 Representatives of the National Weather Service will be on the scene Tuesday to make the official determination whether the damage was caused by an official tornado.
Officials are still working a gas line break downtown, Harmeson said.
A news release from Madison County Sheriff Scott Mellinger said deputies had assisted in the door-to-door search and as of 11 p.m., they were "pretty certain" there were no serious injuries.
"There is so much damage that it will take all evening and most of the day tomorrow to assess it," Mellinger said.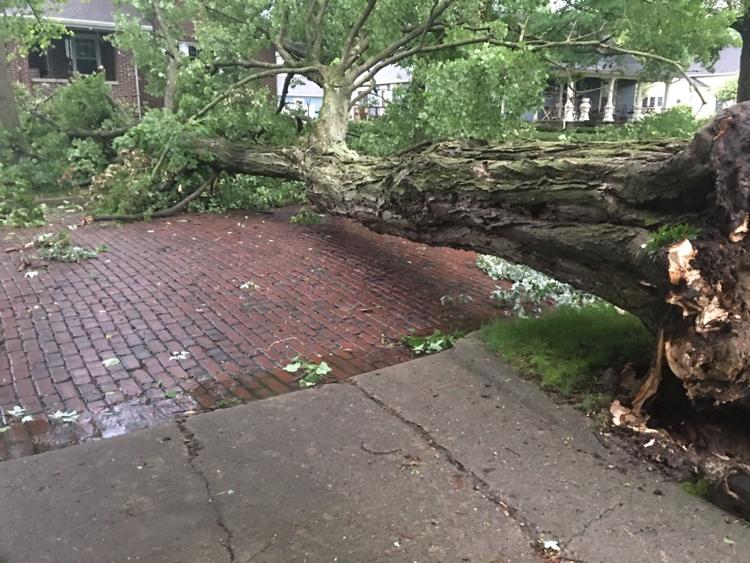 Anderson Fire Chief Dave Cravens, who lives west of Pendleton, reported seeing a funnel cloud mushrooming over the town.
The EMA Facebook page reported many flooded roads and tree limbs and power lines down from both storms, especially along State Street and Main Street, which was down to one lane.
Cravens said gas mains had burst on the east and west sides of Pendleton. Residents from Pendleton's westside were evacuated to Pendleton Heights High School, which had been set up as a shelter, on Monday evening.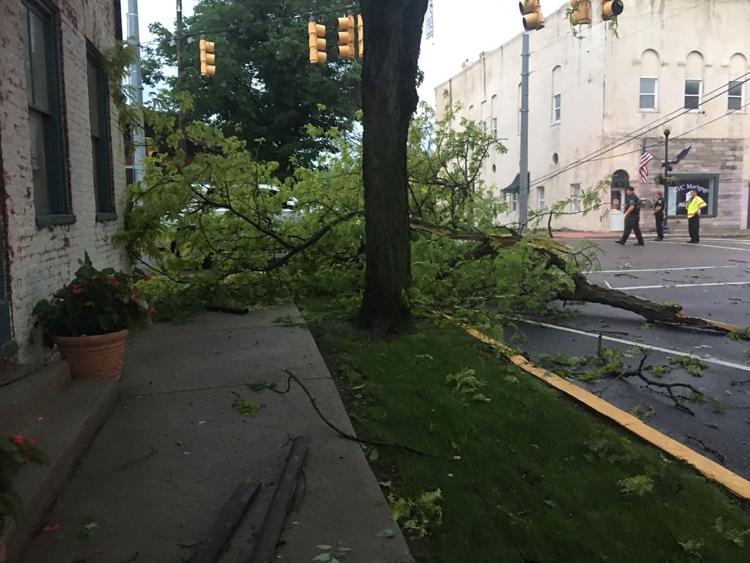 Resident Gail Caudill said she was preparing to go to bed when the emergency signal on her cell phone sounded, followed by the sound of breaking glass.
"There's so much going on. I can't get out the back door," she said.
Myla Pearson, who lives on Main Street, said she headed for the basement when the siren went off on her phone.
"My garage is destroyed. It fell on my neighbor's house. I saw it above the building across the street," she said.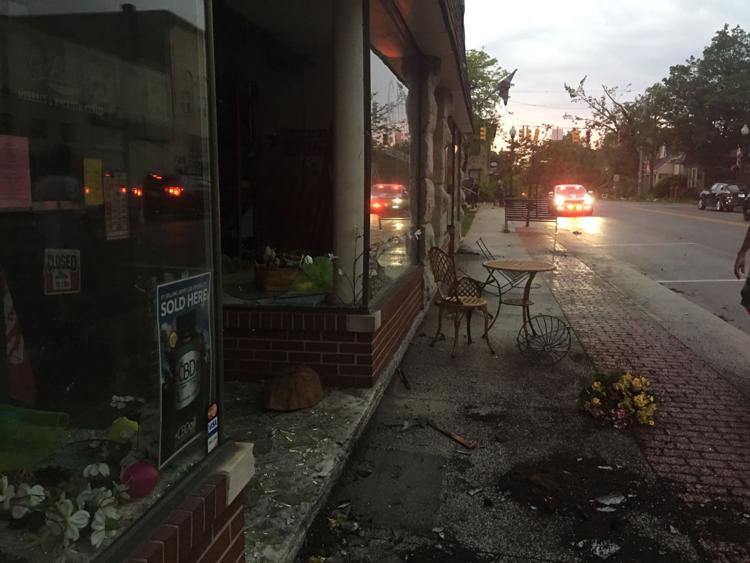 Video posted on The Herald Bulletin Facebook page by Allison Dinndorf showed a rotating funnel cloud passing through the town near O'Reilly's.
Metal was strewn all over the place. A large number of trees were down at the Falls Park and the playground was destroyed.
Diane Maydak, who lives across from Falls Park, said it started raining, and she heard a funny sound.
"We heard a loud snap, and we thought it was a tree in the front. You absolutely could not believe the amount of damage here. It happened in just a matter of minutes," she said.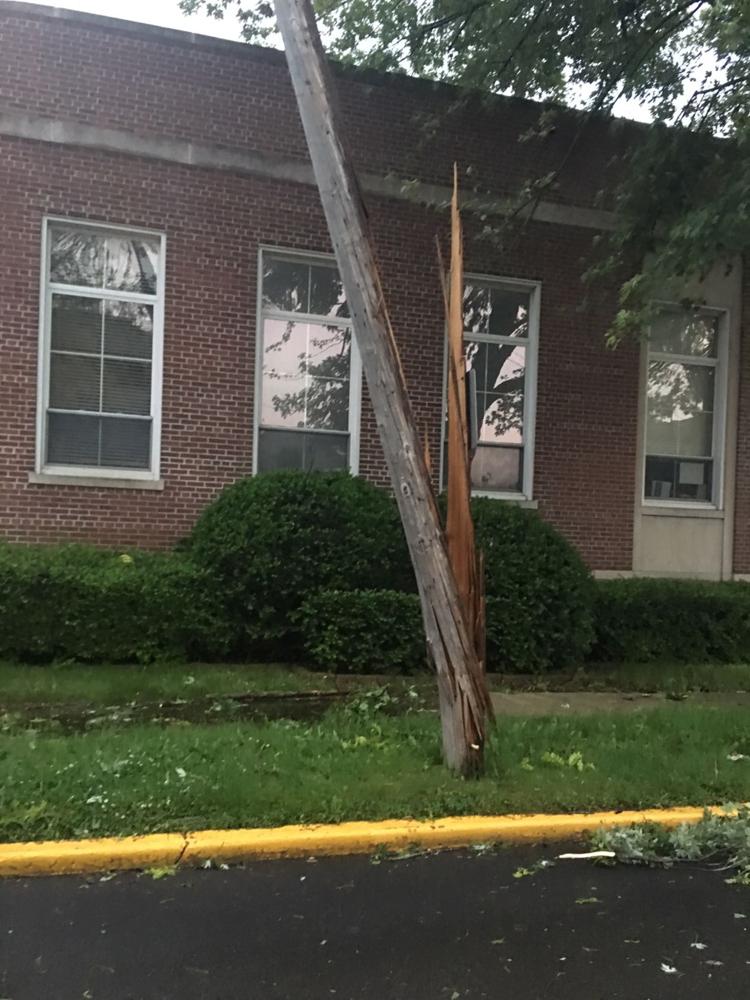 Anderson Police Department spokesman Major Joel Sanderson said there was no major damage reported there though the city was under a tornado warning.
Harmeson said agencies from five counties had responded to the scene.
"Three hours after the storm, the response has been tremendous," he added.
Resident looking for updates on the recovery process can follow #PendletonINStorm on Twitter.
Below are reports coming in from law enforcement, THB reporters, area residents and other entities:
We are totally fine, our town is not. House-to-house search and rescue in Pendleton after tonight's tornado. Once emergency personnel clears, someone with information please tell us how we can volunteer to help in the restoration process. #PendletonInStorm. pic.twitter.com/olno4ShOO1

— Tyler Bradfield (@_TylerBradfield) May 28, 2019
Video of the storms coming in outside the McDonalds at I-69/SR 38 in Pendleton. The restaurant manager took over a dozen people into the freezer for safety until the storms passed. (Video courtesy: Janet McMullen) @WTHRcom #INWX pic.twitter.com/IAuGCDfrzB

— John Duong (@jtduong) May 28, 2019
VIDEO: Here are the moments before a tornado touched down in Pendleton. #PendletonINStorm pic.twitter.com/wZc8CfGA43

— Paris Lewbel (@PLewbel) May 28, 2019
First Responders from 5 counties assisting in Pendleton.Perimeter formed around town because roads impassable

— Ken de la Bastide (@KendelaBastide) May 28, 2019
Residents can get information at #PendletonInStorm

— Ken de la Bastide (@KendelaBastide) May 28, 2019
Falls Park took a major hit numerous trees diwb pic.twitter.com/H4JVbMs5dv

— Ken de la Bastide (@KendelaBastide) May 28, 2019
Tree down in front of house on W. Main Street in Pendleton pic.twitter.com/xB7NavkYEY

— Ken de la Bastide (@KendelaBastide) May 28, 2019
Tree blocking street in Pendleton pic.twitter.com/J2Q7zh2QJX

— Ken de la Bastide (@KendelaBastide) May 28, 2019
Falls Park took a major hit from Monday storm. Numerous trees down pic.twitter.com/QA7bVArlZt

— Ken de la Bastide (@KendelaBastide) May 28, 2019
Tree uprooted on car across from Falls Park pic.twitter.com/zgiKIErd31

— Ken de la Bastide (@KendelaBastide) May 28, 2019
Todd Harmeson with EMA advising Pendleton residents to shelter in place. No injuries reported

— Ken de la Bastide (@KendelaBastide) May 28, 2019
Todd Harmeson said there is damage in Huntsville

— Ken de la Bastide (@KendelaBastide) May 28, 2019
Units from numerous departments in Pendleton, units from as far away as Shirley

— Ken de la Bastide (@KendelaBastide) May 28, 2019
The response from area first responders to situation in Pendleton is impressive.Hats off to all those that responded

— Ken de la Bastide (@KendelaBastide) May 28, 2019
Sightseeing in Pendleton is causing problems. First responders urging people to avoid the area

— Ken de la Bastide (@KendelaBastide) May 28, 2019
Large contingent of light & power trucks in downtown Pendleton

— Ken de la Bastide (@KendelaBastide) May 28, 2019
Todd Harmeson with EMA reporting 75 homes damaged in Pendleton & Huntsville

— Ken de la Bastide (@KendelaBastide) May 28, 2019
South Madison Community Schools will be closed Tuesday

— Ken de la Bastide (@KendelaBastide) May 28, 2019
If u r wanting to help emergency officials are asking you to please stay at home. They r currently working to make the area safe for people Tomorrow morning emergency officials are planning open up at staging area for people that are willing to help. Please stand by for an update

— Madison County EMA (@MadisonCoEMA) May 28, 2019
If you live in a town of Pendleton, emergency officials are asking you to stay in place as there are multiple power lines and trees down in the area. If you're needing to take shelter please head to Pendleton Heights High School. Pendleton Heights High School is open as a shelter

— Madison County EMA (@MadisonCoEMA) May 28, 2019
If you live in a town of Pendleton, Pendleton Heights High School is open for a shelter

— Madison County EMA (@MadisonCoEMA) May 28, 2019
Residence in the town of Pendleton should shelter in place. If you need a shelter, there is a shelter set up at the Pendleton Heights High School.

— Madison County EMA (@MadisonCoEMA) May 28, 2019
More storm damage in Pendleton, Indiana. Viewer took this video at playground area at Falls Park. 📸: Nicole Bowers Keith pic.twitter.com/gcJz7Ot3Yj

— Kelly Reinke (@KellyReinkeTV) May 28, 2019
Viewer says the tornado in Pendleton, Indiana barely missed her home. Video taken just before 8pm. (📸: Tammy Ryan) #weather pic.twitter.com/wDqfQ5wJmw

— Kelly Reinke (@KellyReinkeTV) May 28, 2019
Roof blown off medical office building on state road 67 in Huntsville near Pendleton. #PendletonInStorm @WTHRcom pic.twitter.com/XcBZjpPsVb

— Kyle Thomas (@Kylebsu2000) May 28, 2019
#PendletonINstorm pic.twitter.com/WTKaBN6iTh

— Jason Tuck (@jktuck00) May 28, 2019
Managers at this Pendleton McDonalds got employees and customers (about 20 people) into the freezer after they saw "multiple funnel clouds". Everyone is safe. @WTHRcom pic.twitter.com/iMHY0hVwjV

— Jennie Runevitch (@JennieWTHR) May 28, 2019
Trees blocking roads in Pendleton. Limbs down everywhere. @WTHRcom #INwx pic.twitter.com/djVYgXX0KU

— Jennie Runevitch (@JennieWTHR) May 28, 2019
Just after 8 looking back east just west of Pendleton right after we decided to get out of dodge. @SeanWTHR pic.twitter.com/TT7NiGjK7g

— Zach Grounds (@grounds_zach) May 28, 2019
Damage photos out of Pendleton. Courtesy Joey Hutslar #inwx ⁦@MetTaraHastings⁩ ⁦@AshleyBrownWX⁩ pic.twitter.com/mEsi4yP17C

— Marcus Bailey (@marcusbailey) May 28, 2019
Large tree down across road in Pendleton. pic.twitter.com/GFfgH3LrP6

— Emily Longnecker (@EmilyWTHR) May 28, 2019
More large trees down along Pendleton Avenue. Every few feet. pic.twitter.com/x0tDtUbE1e

— Emily Longnecker (@EmilyWTHR) May 28, 2019
Folks who live near Franklin & Taylor in Pendleton tell me they heard hissing sound and came outside and were told to evacuate because of gas leak. Have not been able to confirm this with emergency officials but I can smell natural gas in air.

— Emily Longnecker (@EmilyWTHR) May 28, 2019
Command Pist being set up at fire station in Pendleton. Crews on scene tell me they are still trying to get control of damage because there's a long spread out path. One guy just said "It's everywhere." pic.twitter.com/h3tS00EulO

— Emily Longnecker (@EmilyWTHR) May 28, 2019
Update: #PendletonInStorm we are working from house to house in Pendleton and Huntsville area. mutual Aid from Hancock, Henry, Hamilton counties and most all departments in Madison County. Search and Rescue is on going

— Madison County EMA (@MadisonCoEMA) May 28, 2019
Wow! Check out these clouds from the Tornado Warned storm in Madison County this evening - we're told several buildings have been damaged in the county and we have a crew heading that way now. #INWx pic.twitter.com/b5cKFDKQi8

— RTV6 Indianapolis (@rtv6) May 28, 2019
Hail in Lapel @NWSIndianapolis 803PM pic.twitter.com/SVILQNbcBk

— Madison County EMA (@MadisonCoEMA) May 28, 2019
Tornado warning has been issued for Madison County until 8:45 PM. Multiple funnel clouds have been spotted by trained emergency personnel. Citizens should take precaution and shelter at this time.

— Madison County EMA (@MadisonCoEMA) May 28, 2019
Pendleton has significant damage from the storm. Most roads in town are closed and utility power is out. No reported injuries at this time. PIO EMA is in Pendleton area with updates.

— Madison County EMA (@MadisonCoEMA) May 28, 2019
Hail in LapelSirens activated Heavy rain pic.twitter.com/RyzedlZCEJ

— Ken de la Bastide (@KendelaBastide) May 28, 2019
Scanner traffic indicating trees & power lines down all over Madison County

— Ken de la Bastide (@KendelaBastide) May 28, 2019
Heavy tree damage in Pendleton & Huntsville on scanner

— Ken de la Bastide (@KendelaBastide) May 28, 2019
Flooding in near downtown Lapel pic.twitter.com/98cQeag8OP

— Ken de la Bastide (@KendelaBastide) May 28, 2019
Wind damage in Lapel pic.twitter.com/h5aVwWQpE0

— Ken de la Bastide (@KendelaBastide) May 28, 2019