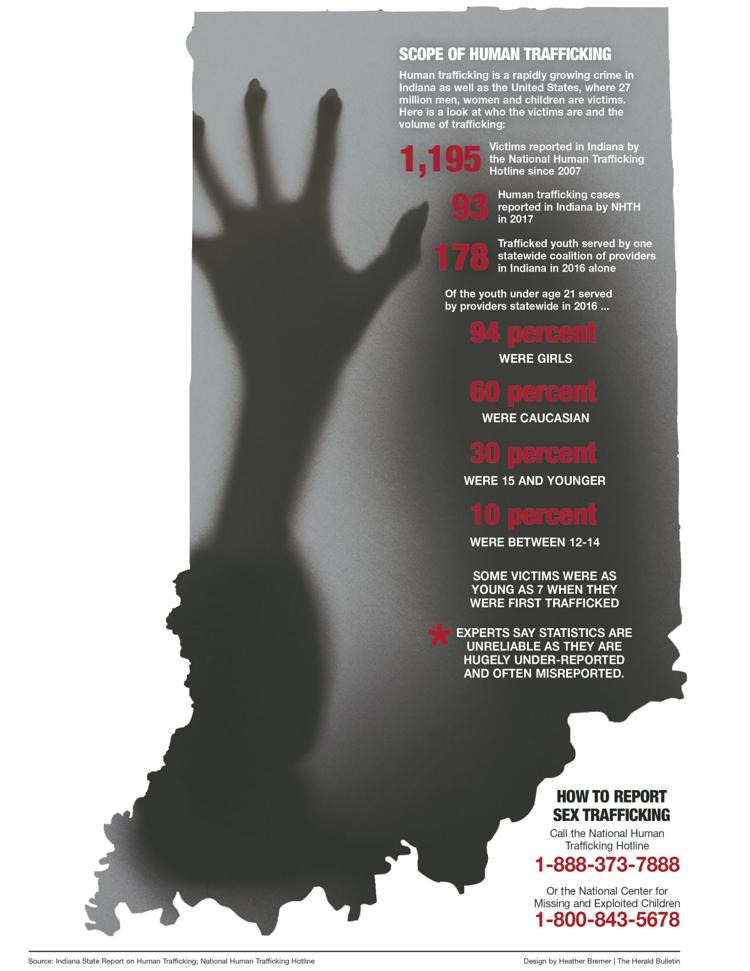 It can begin with months of grooming, through social media and meet-ups. The victim, often a girl in her teens with a dysfunctional home life, falls in love. Her "boyfriend" provides safety, love and luxuries.
One day, he will make a proposal, promising that she will need to do this only once: Have sex with someone for money.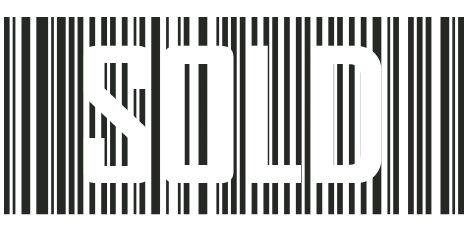 But "once" is soon forgotten. The victim will be sold, over and over, to customers. She will become a commodity, a reusable cash cow in the sex trade industry.
Sex trafficking is often depicted as in the movie "Taken," with an overseas kidnapping. In real life, it usually unfolds in a more mundane way.
Once the victim belongs to an established pimp, breaking free is nearly impossible, said Dr. Katrina Mallory, director of TRUHarbor, a New Castle-based rehabilitation center for minor victims of sex trafficking.
TRAFFICKING DEFINED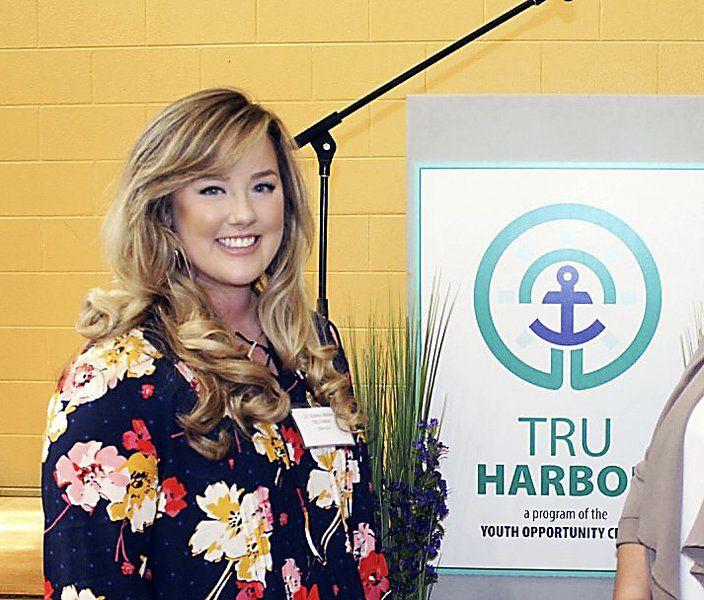 Human trafficking is defined as exploiting a person, against their will, for goods or services, according to the 2016 Indiana State Report on Human Trafficking.
The report shows that 1,195 victims were reported to the National Human Trafficking Hotline since 1997; 94 percent of those victims were girls.
Three major types of trafficking comprise the vast majority of cases. Labor trafficking deals in selling people for free work, sex trafficking deals in selling people for sex, and child sex trafficking deals in selling children for sex, according to the report.
Prostitution and trafficking are often lumped together, with the inaccurate assumption that the sex trade is a victim-less crime. Often prostitutes are not in the sex trade by their own volition, but because they were coerced by a pimp.
Such coercion is nearly universal in child trafficking.
SOLD FROM A BROKEN HOME
The child sex trade has many faces: a pimp can be a boyfriend, or a parent. The majority of child sex trafficking in Indiana is familial, Mallory said.
"We're seeing an increasing number of parents who are pimping their kids out for money or pimping them out for periods of time for drugs," she said.
In 2016, Indiana's youngest reported victim was 7 years old, according to the state report.
Mallory works mostly with survivors of familial trafficking, girls who were sold by parents, foster parents or other parental guardians, she said.
"It's not just an international problem, it's happening here in Indiana," she said. "Parents, aunts, uncles ... maybe only when you go to grandparents over the summer. A very sophisticated operation that some family members have going on, other members may turn a blind eye to."
SMART SEX RINGS
While familial trafficking is common in Indiana, sex rings comprised of victims groomed into the industry are prevalent in larger cities.
Ascent 121, an Indianapolis-based treatment program for survivors of human trafficking, works mostly with minors who were lured into sex rings, said director Megan Jessup.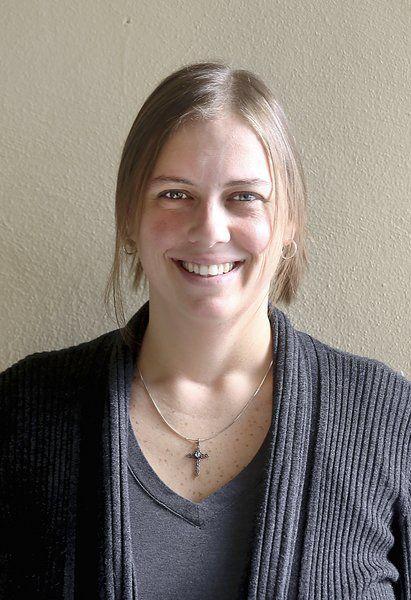 Many of the survivors Jessup works with are runaways. Treatment by Ascent 121 is largely focused on a continuity of care, especially with family therapy.
"These girls have families who love them very much — families who have fretted and worried for their loved one," Jessup said.
Traffickers are adept at grooming victims. In larger rings, traffickers have recruiters whose sole responsibility is to find new girls for the operation, Mallory said.
"Recruiters may be other children who have been forced to recruit other kids to join them in 'the family,'" Mallory said. "Sometimes recruiters are really unassuming."
One of Mallory's patients was recruited by a pimp's mother. The woman fed the victim, took care of her and spent time with her, she said.
"And then she was just handed off to her pimp," Mallory explained. "He was her pimp for the next five years."
Madison County is a prime spot for child trafficking because of its proximity to Interstate 69, according to Mallory. With access to interstates 69, 65 and 70, a pimp can take a victim from Chicago to Atlanta in one day.
"Our Madison and Delaware county girls sometimes end up in Chicago, and we have to go and get them out," Mallory said. "Chicago is a hotbed because it's so local to us."
SOLD THROUGH SOCIAL MEDIA
Victims are increasingly found through social media apps with direct messaging.
Federal Bureau of Investigations Special Agent Andrew Willmann, who is based in Indianapolis, said perpetrators cast a broad net to ensnare vulnerable children.
"They usually aren't successful — they do this with a wide swath of kids," Willmann said. "They hit 16 and get two of them."
Willmann works on the Violent Crimes Against Children Task Force. He was an agent on the Jared Fogle case. Fogle, the former Subway spokesperson, was charged with seeking children for sex.
"The younger the girl, the better," Fogle said, according to the 2016 Indiana State Report on Human Trafficking.
Willmann said many of the cases that reach him involve a single predator extorting children for sex, sexual photos or other such content. The predators are persistent and unapologetic.
"Strangers, even friends, will blackmail kids for sexual photos, sex," Willmann said. "They will never stop until they're caught. They never stop."
EASY PREY
Ninety-five percent of victims have been in the foster care system and they often have a history in the juvenile justice system, according to the National Center for Missing and Exploited Children.
Eighty-nine percent of victims are runaways with few family members to look for them, according to the agency.
These victims are usually vulnerable to grooming because their foster care placement comes from a traumatic origin. Ninety-two percent of them are sexual abuse or rape victims.
Trafficked children often have a record of truancy or a sharp decline in academic performance. They exhibit behaviors of self-harm and substance abuse, according to the center for missing and exploited children.
Jessup said a perfect storm of risk factors and vulnerabilities can make girls easy prey.
"These girls are coming from a place of brokenness. The love and attention their pimp gives them is so comforting," Jessup said. "These girls are soaking this up."
Ascent 121 works with as many as 100 children a year who have been coerced and sold for sex.
"They experience unfathomable abuse," Jessup said. "And once they're in, they're in. Their pimp is their savior. These girls don't know a way out. And that's where we come in."
Follow Laura Arwood on Twitter @lauraarwood or call 648-4284.