MIDDLETOWN — Middletown is mourning after another of the small town's favorite sons turned military members died in an accident, the second time in one year.
Ryan Lohrey, a 30-year-old former resident of Middletown and Shenandoah High School football star, was among the 16 military members killed in the crash of a Marine Corps refueling plane Monday in the Mississippi Delta.
The news came Wednesday in the same month of the one-year anniversary of the death of Halex Hale, who drowned in a river near Aviano Air Base in northern Italy in 2016.
Friends and family remembered Lohrey, who is survived by his wife, Cassie Lohrey, and two children Gavin and Maylinn, as someone who never found a job he couldn't tackle.
"Even when he went through training, the drill sergeant would get in his face and Ryan would just laugh because there wasn't enough push-ups or sit-ups that he couldn't do," said Michael Lohrey, Ryan's father.
Chris Parrish, who played alongside Lohrey on Shenandoah's football and golf teams, said Lohrey was quick to make friends and once you got close to him, the bond was eternal.
"He was a great man, friends with everybody. I don't think there was anyone who didn't like him," Parrish said.
Lohrey also had a bit of a daredevil streak, Parrish remembered, pushing him to try out BMX, skateboarding and rollerblading.
"He wasn't scared of anything," Parrish said. "That's probably why he was so good in the Navy."
Another former teammate, Travis Forrest, said Lohrey was the type of guy who knew how to keep things light, even after countless hours spent toiling on the football team.
"He was fun, funny, you know just a real cool guy," Forrest said.
After graduating from high school in 2005, Lohrey enlisted in the Navy, working to fulfill a lifelong dream of becoming a Navy SEAL, Lohrey said.
But after a series of tests and trainings, it was discovered that Lohrey's ears didn't pop under high pressure, and he was not qualified to become a SEAL.
"Other than that, he would have made it, no doubt," said the elder Lohrey.
Instead, Lohrey switched to focus on medicine, training as a medic where he eventually met his second wife, Cassie Lohrey. The two were married June 3.
Lohrey planned to transition his background as a medic into a career in nursing after he left the Navy.
Lohrey was with the MARSOC Raiders and Marines Recon, two special units, and was deployed twice in the Middle East.
His father said it was tragic that Lohrey survived two tours abroad but was killed in an accident on his way to training for his third tour of duty.
"I never would have expected this to happen. He's been twice in Iraq and Afghanistan and we worried that whole time," he said.
So far, Lohrey said the family has not had time to schedule or plan memorial services, but more information will be released at a later date.
Todd Salkoski, Shenandoah High School athletic director, said the school plans to remember Lohrey at the school's first football game this fall.
Scott Widner, who coached Lohrey throughout his high school career, remembered him as a hard worker who never complained.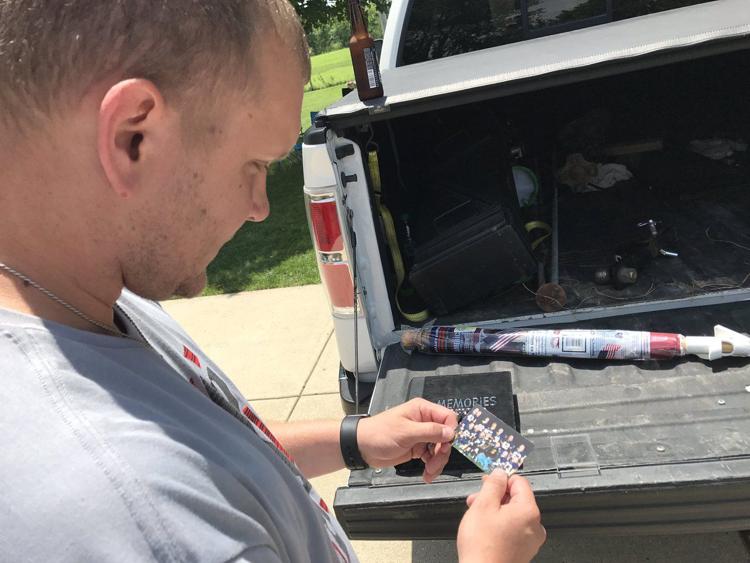 "Ryan (Lohrey) just would show up and do a good job, he was a real strong kid, kind of mild mannered," Widner said. "You hate to see anyone that young, anything unfortunate happen. It's heartbreaking for something like that to happen."
As a way to honor his longtime friend, Parrish bought an American flag on Wednesday, and plans to hang it on the front of his house.
"And I'm putting a great big yellow bow around the tree out front, that's for Lohrey," Parrish said.