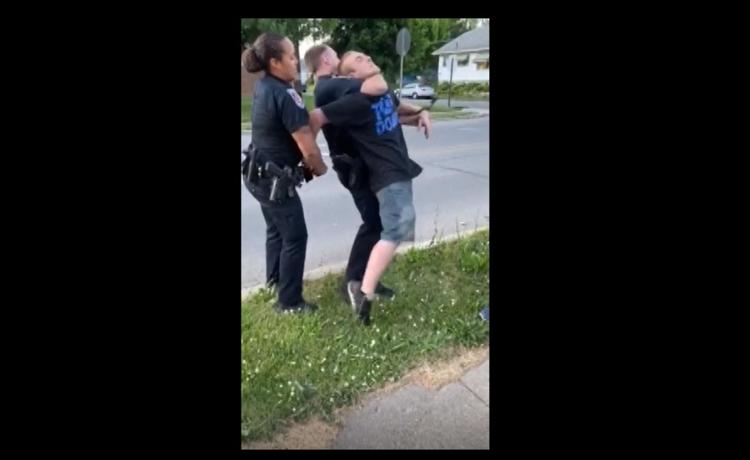 ANDERSON — The results of the internal investigation of one of the two Anderson Police Department officers involved in a controversial June arrest will be considered by the Board of Public Safety on Wednesday.
The board is scheduled to meet in executive session at 4 p.m. Wednesday, followed by a public meeting available on Zoom.
The internal investigation into the actions of officers Brandon Reynolds and Ashley Gravely during the June 13 arrest of Spencer Nice was announced by Anderson Mayor Thomas Broderick Jr. and APD Chief Jake Brown on June 18. During the arrest, which was captured on a cellphone video that was posted to social media, Reynolds allegedly used a chokehold, which had been banned by the department on June 11, to subdue Nice.
The safety board is expected to consider a recommendation by Brown following the internal investigation by Assistant Chief Mike Lee.
Brown reportedly is recommending that Reynolds be terminated by the department.
Any disciplinary action has to be considered and approved by the three members of the Board of Public Safety. Under the terms of the contract with the Fraternal Order of Police, discipline is administered by the administrative staff.
Reynolds can appeal the decision and request a hearing.
The three Safety Board members — Chairman Mike McKinley and members Sam Dixon and NiCale Rector — are all appointed by Broderick.
Reynolds and Gravely have been on paid administrative leave since June 13. Both Reynolds and Gravely have been members of the police department for five years, and there has been no disciplinary action taken against either officer in the past.
At the June 18 news conference, Broderick said Brown conveyed the order banning chokeholds via email to the officers. Broderick said departmental rules require officers to view departmental email on a daily basis.