PENDLETON – South Madison Community Schools is gearing up to break ground this year on an estimated $12.8 million in construction at Pendleton Heights High School.
South Madison will conduct a bond lease hearing at 7 p.m. Thursday at the district administration center, 203 S. Heritage Way, Pendleton.
South Madison Superintendent Joe Buck said the activity center, wrestling room and locker room were elements considered but removed from plans when the school underwent renovations in 1997.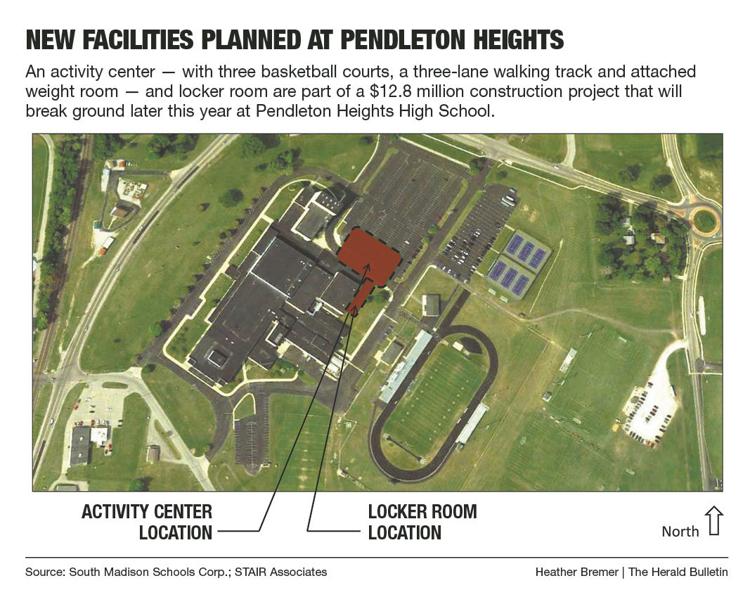 The plans for the additions have been redrawn by Carmel-based architectural and engineering firm Stair Associates Inc. to contemporary standards, Buck explained.
"Part of the drawings were eliminated from that project just before construction started," he said of 1997. "We have waited patiently since that project for a time we thought would be better to complete those projects."
That timing is now because the district has some bond debt that will be rolling off the debt service fund, allowing the project to be completed without an increase to the tax rate, said South Madison's business manager, Ken McCarty.
"We certainly want to balance the needs of the taxpayers with the needs of our students, to be tax effective," he said. "If we did not have that debt coming off, we would have to increase the tax rate. This will basically keep our total debt as close to level as we can."
If the residential and commercial properties grow in assessed value, taxpayers actually could experience a decrease in the tax rate over the life of the bond, McCarty added.
"We have seen some growth in assessed vale. There have not been big leaps recently," he said.
The construction will result from a facilities study by Stair Associates that was presented and approved last August by the South Madison board of trustees.
"Through that study, the board felt very comfortable where we are at this time," Buck said.
The district commissioned the study to look at all of its buildings so that administrators could plan for future growth, the superintendent said. With the exception of the 2016-17 school year, the district's student enrollment has increased year over year.
Buck said he believes student enrollment will continue to increase with expansion along the I-69 corridor, and he wants to be prepared.
"What that facility review covered was possibilities at each building in the corporation," he said.
All buildings, except East Elementary School, have room for growth. The problem at East, should it become serious, possibility could be resolved with some minor redistricting, Buck said.
The activity center, similar to the field house Anderson High School hopes to build if its May 8 bond referendum is successful, will include three basketball courts, a three-lane walking track and an attached weight room.
The $12.8 million represents the maximum amount authorized by the board for the projects, Buck said.
"Bids can obviously come in less than that, which we would hope," he said.
While school officials in Anderson and Alexandria are petitioning taxpayers for referendums to cover safety issues and deferred maintenance, South Madison might run the risk of criticism for projects that at first blush don't appear to be academic.
However, Buck said the new facilities would support academic endeavors and co-curricular and extracurricular needs that enhance academics. For instance, scheduling of band and color guard currently can run so late that students sometimes get home at an unreasonable hour to complete homework before bed time.
"At this time, there is not enough space for our physical education classes, weight training classes and extracurricular activities," Buck noted. "Many of those co-curricular groups have to travel and get their equipment to our elementary gyms or middle school gym after hours."
New, inviting buildings also attract families who help keep the district growing, Buck pointed out.
"Your school corporation brings in business and helps the housing market," he said.
The superintendent hopes to award contracts in June and have drawings complete by August for groundbreaking in late summer or early fall. He said he also hopes to have the activity center under roof by the end of November so that construction can continue inside as winter approaches.
The activity center, which will be accessible from inside the school and from outside, will result in the loss of some parking spaces on the north side of the building, Buck said.
"We need to do some re-striping of parking spaces and can recoup some through that," he said.
Why no referendum?
South Madison Community Schools is the third district to announce plans for a major construction project.
Anderson Community Schools is nearing the end of a $41 million bond referendum, and Alexandria Community Schools is hoping taxpayers will foot the bill for more than $19.3 million in building improvements and maintenance.
Both districts hope voters will give them a thumbs up when they go to the polls May 8.
South Madison, however, does not have to seek taxpayer permission because of changes in the law and because they are seeking less than 1 percent of the assessed value of the properties in their district, said Superintendent Joe Buck. Even then, the district is below the $15 million threshold.
South Madison is using Indianapolis-based Ice Miller, the same company used by ACS, as its bond counsel.
"They're just three different situations," Buck said.