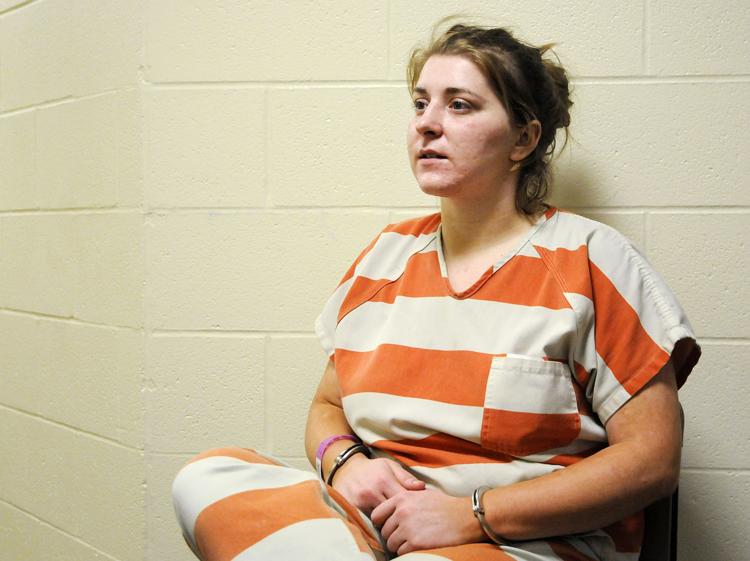 ANDERSON — The mother of a 23-month-old girl who died last July has pleaded guilty to a Level 1 felony charge of neglect of a dependent causing death.
Kayla Hudson, 26, Chesterfield, entered pleas of guilty on Tuesday to the Level 1 felony charge and a Level 3 felony charge of neglect of a dependent causing serious injury in Madison Circuit Court Division 4.
Judge David Happe set sentencing for April 16. Hudson is facing a possible prison sentence of 20 to 40 years on the Level 1 felony and a sentence of 3 to 16 years on the Level 3 charge.
Hudson's attorney, Paul Podlejski, declined to comment on the case.
The defendant was teary-eyed when Mary Hutchinson, Madison County deputy prosecutor, read the probable cause affidavit.
She made no comment to the court other than the "guilty" pleas.
Her boyfriend, Ryan Ramirez, 29, of Chesterfield, has been charged with the murder of Paisley Hudson and Level 3 felony neglect of a dependent causing serious injury of the 3-year-old brother.
Ramirez is scheduled to go to trial on Sept. 9.
During an interview with The Herald Bulletin at the Madison County Jail on Aug. 3, Hudson often contradicted herself:
• She said she had a wonderful relationship with Ramirez, and he was a strong father figure for the children — until she realized she'd brought a "monster" into her life.
• The bruises and other injuries to her daughter immediately obvious to anyone with whom she came in contact — except Hudson herself — were caused, Hudson said, by her son, who was having behavioral problems. At other points during the interview, she said her son was loving and protective toward Paisley.
When asked whether she would expect others to believe her answers to the interview questions, Hudson stared meekly at the floor, hesitated and then said no.
Former Madison County Coroner Marian Dunnichay said last July that Paisley Hudson died from a blow to her head and two lacerations to her liver that caused internal bleeding. There were indications of other injuries as well.
The child was pronounced dead at St. Vincent Anderson Hospital, shortly after Hudson drove her to the emergency room from the Red Roof Inn on South Scatterfield Road where she and Ramirez were staying.
After the couple was taken into custody, Riley Hudson was transported to Indiana University Health Riley Hospital for Children in Indianapolis where he underwent treatment for multiple injuries, including a broken wrist, authorities said.
According to probable cause affidavits filed by Anderson police, Ramirez drove Hudson to Buffalo Wild Wings where she worked as a waitress on July 27 about 5 p.m. He returned about 11 p.m. to pick her up.
Paisley was in her car seat at pickup. Ramirez reportedly told Hudson the girl was asleep and he carried her into the motel room, changed her soiled diaper and put her down in a portable play yard. Hudson, meanwhile, carried Riley in, according to the affidavits.
There is disagreement in their two stories about what happened next, according to the affidavits. Ramirez says he and Hudson relaxed and watched television for a time. About 3 a.m. July 28 he awoke and checked on the girl and noted she changed her sleeping position.
Between 5 and 6 a.m., he said, Hudson awoke, checked on her daughter and found she was unresponsive and cold to the touch.
Hudson, on the other hand, told investigators that after arriving back at the motel, she immediately left and went to Walmart to buy cream and tea bags that she used to try and mask bruises that covered Riley's body, according to the affidavits.
Then, she told police, she left a second time to buy fast food and cigarettes. After that, she took a shower and the couple watched television until dawn. About 6 a.m. July 28 she became concerned about Paisley. When Hudson checked on her daughter, the child was cold and lifeless.
Then, instead of calling 911, she gave the child a bath in warm water, attempted CPR, and changed her diaper and shirt before driving to the St. Vincent emergency room, according to the affidavits.
Follow Ken de la Bastide on Twitter @KendelaBastide, or call 765-640-4863.
What's Next
Kayla Hudson
What: Sentencing of Kayla Hudson on felony charges of neglect of a dependent resulting in death and neglect of a dependent resulting in serious bodily injury
When: April 16 at 2 p.m.
Where: Madison Circuit Court Division 4, Madison County Government Center
 Ryan Ramirez
What: Trial of co-defendant Ryan Ramirez on charge of murder
When: Sept. 9
Where: Madison Circuit Court Division 4