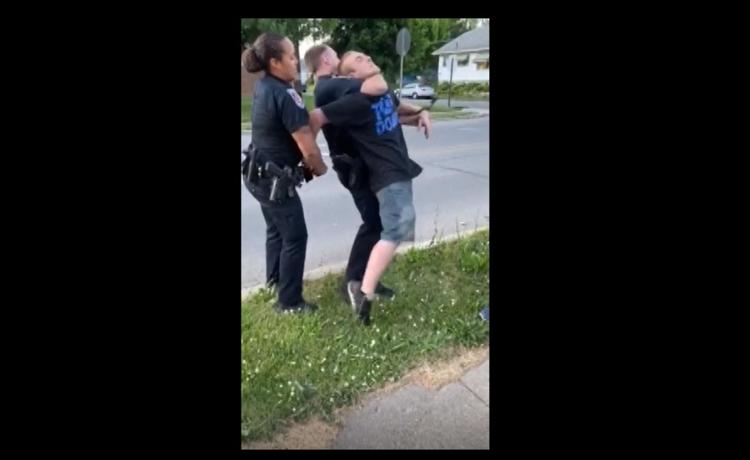 ANDERSON – A video, shot two days after the city of Anderson announced it had banned chokeholds by its police force, shows an officer applying a chokehold during an arrest.
The edited 42-second video shows two Anderson Police Department officers arresting Spencer Dakota Nice, 21, on Saturday evening. The APD later charged Nice with resisting arrest. The officers have been suspended with pay pending the outcome of an investigation.
In a joint statement Monday evening, Mayor Thomas Broderick Jr. and Police Chief Jake Brown said that Nice had been arrested for suspicious behavior after an officer heard gunshots while he was patrolling about 9 p.m. in the 3000 block of Noble Street.
In the video, the officer, Brandon Reynolds, is standing behind Nice.
Suddenly, Reynolds reaches over Nice's shoulder and squeezes the smaller man's neck between his forearm and bicep, twisting Nice around and taking him to the pavement, where another officer, Ashley Gravely, helps restrain him.
Reynolds, as shown in the video, pushes with a hand on the back of Nice's neck, forcing his face into the pavement. Both officers use their knees, one in the middle of Nice's back and one pressing against his legs, as they twist Nice's arms behind his back to handcuff him.
Nice doesn't appear, in any portion of the video, to resist the arrest.
"I was surprised," Nice said Monday. "It came out of nowhere. It all happened so fast."
After watching a Facebook post of the video, APD Chief Jake Brown placed Reynolds and Gravely on paid administrative leave Monday "pending a full investigation of the incident," according to the joint statement.
'BANNING CHOKEHOLDS'
Since bystanders caught on video the May 25 death of George Floyd, who repeatedly said "I can't breathe" as a Minneapolis police officer pressed a knee into his neck, millions of people have joined in demonstrations across the nation to protest police brutality and racial injustice.
In reaction, police departments have been reviewing and revising their protocols for suspect restraint. Broderick and Brown on Thursday announced the APD ban on the use of chokeholds during an arrest.
"While we are still in the review process of our policies and procedures, we have determined that we are banning the use of chokeholds by police to restrain or control a suspect," a portion of the two-page statement read.
According to the joint statement released Monday evening, the Saturday arrest of Nice occurred when Reynolds, who had heard what he believed were gunshots, saw Nice and three other people walking in the area.
Reynolds saw Nice "throwing something black up against the side of a factory warehouse," according to the joint statement.
After Gravely arrived to assist Reynolds in taking Nice into custody, Nice resisted arrest and was "taken to the ground by ... Reynolds," the statement reads.
The mayor and police chief acknowledged that Reynolds appeared to violate the department's ban on chokeholds.
"The policy stated on Thursday has in no way been modified," they said in the joint statement. "We expect all officers to follow this directive. Additionally, we expect all officers to follow proper policy when engaging with the public."
Brown could seek additional disciplinary action against Reynolds, depending on the outcome of the investigation. The police chief and mayor did not say whether the probe would be conducted by the APD or an outside police agency.
Evidence will be submitted to the city's Board of Public Safety, which would conduct a hearing and give approval for any discipline greater than a five-day suspension, according to the statement.
"While we want to fairly review all of the evidence we are disturbed by what is shown in the video," the statement reads. "The department will not tolerate the use of improper force. We will promptly act in such cases and take appropriate action for any such violations."
'A COMPLETE SHOCK'
After spending six hours in a holding cell, Nice said, he was released from the Madison County jail early Sunday morning on his own recognizance.
Nice said he had been walking with family members Saturday just before dusk in the vicinity of 32nd and George streets when Reynolds stopped his squad car and started asking his father, Van, questions.
Police read Nice his rights while he was handcuffed in the back of a patrol car, Nice said.
"They didn't say anything," Nice said of the officers. "They wouldn't answer me. I didn't know why I was arrested until they released me."
Over the past six years, Nice has been charged with possession of methamphetamine and marijuana, speeding and several instances of driving without a license, in Clinton County. Twice he's been charged with resisting arrest and, in one case, he pleaded guilty. Many of the charges, including the meth charge, were later dismissed.
Nice lives in Frankfort but has been staying with his father in Anderson over the past few weeks, his father said.
"I haven't talked to any police officers in Anderson," Nice said. "I plan on pressing charges against the two officers tomorrow (Tuesday) and suing them."
Van Nice said the family was going for a walk about 9:30 p.m. Saturday when they were stopped by Reynolds.
"I asked if we were being detained and he said no," Van Nice said. "They wouldn't give us any information. They handcuffed (Spencer Nice) and that's when (Reynolds) grabbed him."
Van Nice said the family went to APD headquarters Sunday and Monday to try to get information about why his son had been arrested and to find out whether the arresting officer would face discipline.
"It was a complete shock," Van Nice said of the incident.