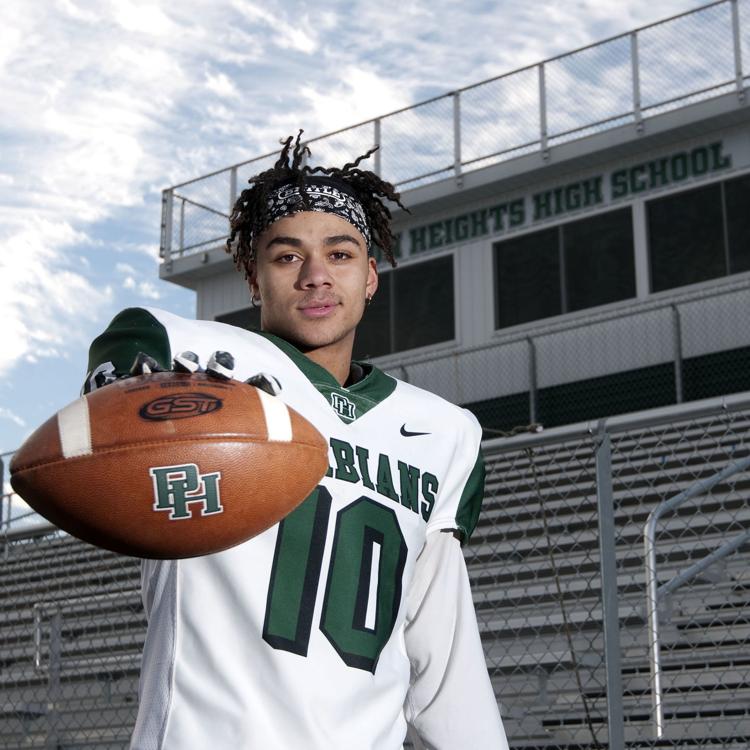 The goal for Pendleton Heights opponents this season was to take away the Arabians' most dangerous offensive weapon. When that did not work, he burned them. When it did, his teammates did the burning.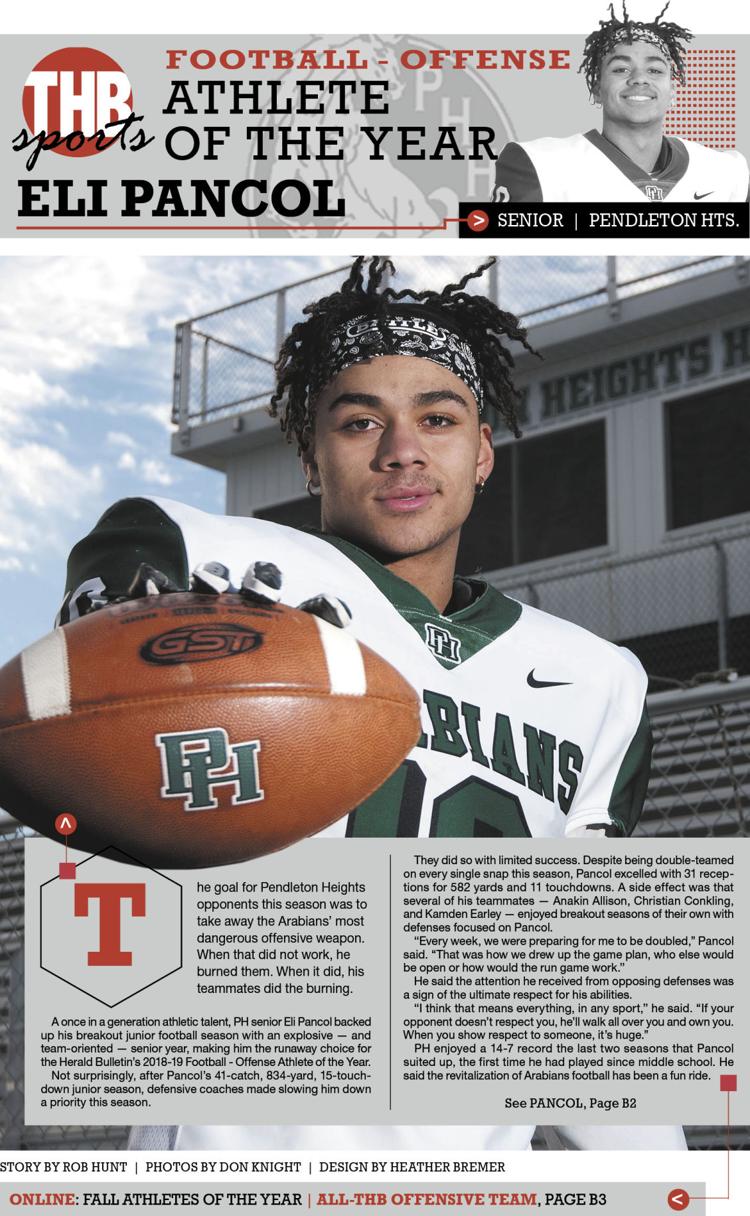 A once in a generation athletic talent, PH senior Eli Pancol backed up his breakout junior football season with an explosive — and team-oriented — senior year, making him the runaway choice for the Herald Bulletin's 2018-19 Football - Offense Athlete of the Year.
Not surprisingly, after Pancol's 41-catch, 834-yard, 15-touchdown junior season, defensive coaches made slowing him down a priority this season.
They did so with limited success. Despite being double-teamed on every single snap this season, Pancol excelled with 31 receptions for 582 yards and 11 touchdowns. A side effect was that several of his teammates — Anakin Allison, Christian Conkling, and Kamden Earley — enjoyed breakout seasons of their own with defenses focused on Pancol.
"Every week, we were preparing for me to be doubled," Pancol said. "That was how we drew up the game plan, who else would be open or how would the run game work."
He said the attention he received from opposing defenses was a sign of the ultimate respect for his abilities.
"I think that means everything, in any sport," he said. "If your opponent doesn't respect you, he'll walk all over you and own you. When you show respect to someone, it's huge."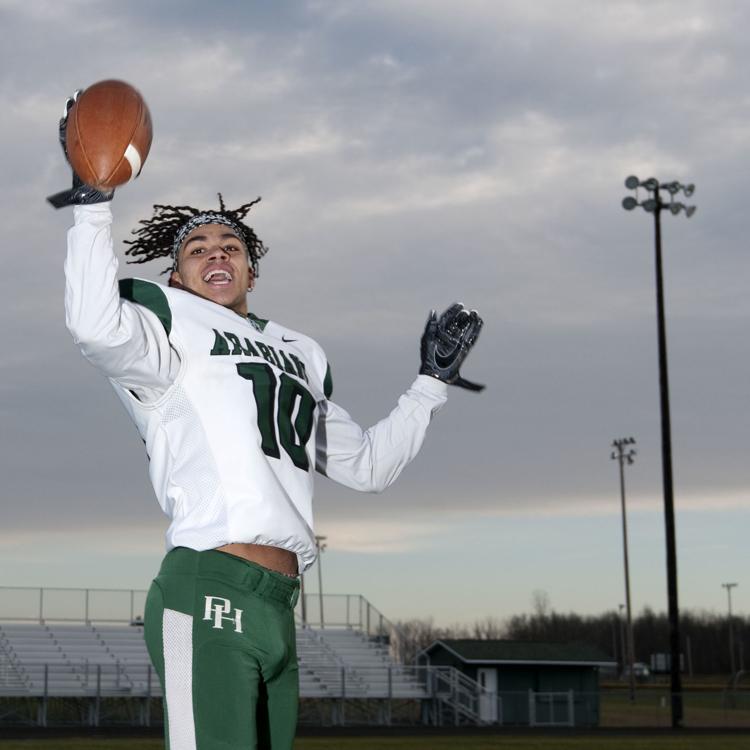 PH enjoyed a 14-7 record the last two seasons that Pancol suited up, the first time he had played since middle school. He said the revitalization of Arabians football has been a fun ride.
"It's been crazy, when I wasn't playing my sophomore year, nobody went to the games and the student section was dead," Pancol said. "We started winning games my junior year and everyone wants to come see us play. It's really cool and I hope it keeps going up, it's definitely set the standard. The freshmen and sophomores know they have something to live up to."
After earning All-HHC honors, he was selected by the Indiana Football Coaches Association as one of the Top 50 players in the state, across all classes.
"When I first started, I didn't know how it would work out for me," Pancol said. "It's been rewarding, it feels good that I've put so much work into it and see some achievements."
Pancol was a three-way player, with 2 interceptions and 2 fumble recoveries this season and, despite team's refusing to kick to him, also did damage in the return game. He averaged 41 yards per kick return, including a touchdown, and 18 yards per punt return. Headed to Duke University in January to begin his college football journey, Pancol says he is a much better football player now than a year ago.
"My technique has gotten better, my leadership has gotten better, my patience has gotten better," he said. "I've had to find ways to get open, it's done a lot for me."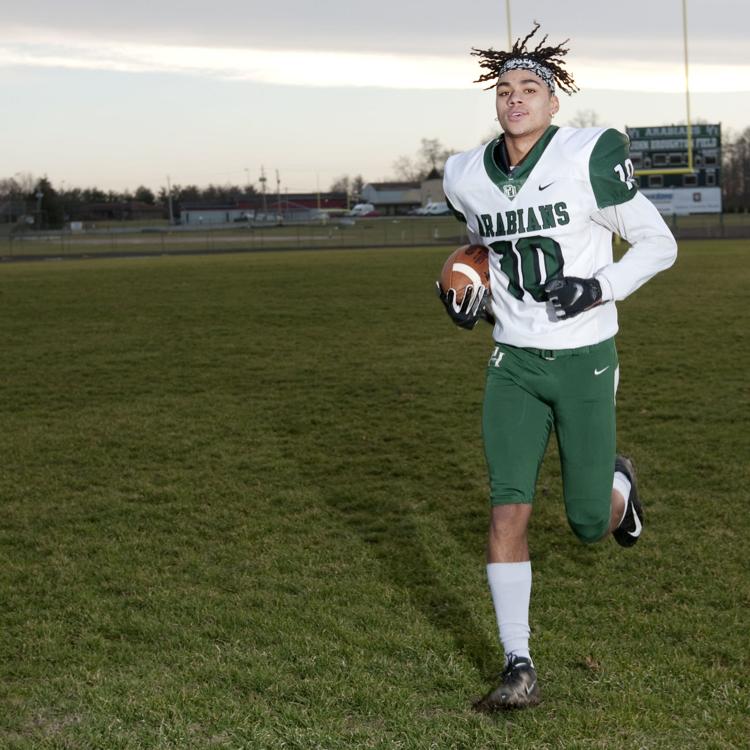 Pancol said football taught him a lot about himself, maybe some things he hadn't noticed in his 3 years of basketball and 2 years of track and field, where he also holds multiple school records.
"I've learned that people look up to me," Pancol said. "I'd never really noticed it before, but now I see kids wanting to football like me and get excited to see me. I think that's awesome, it makes me want to do it that much more.
"I've learned there are no limits to be set," he added. "I would never have seen myself at Duke University."