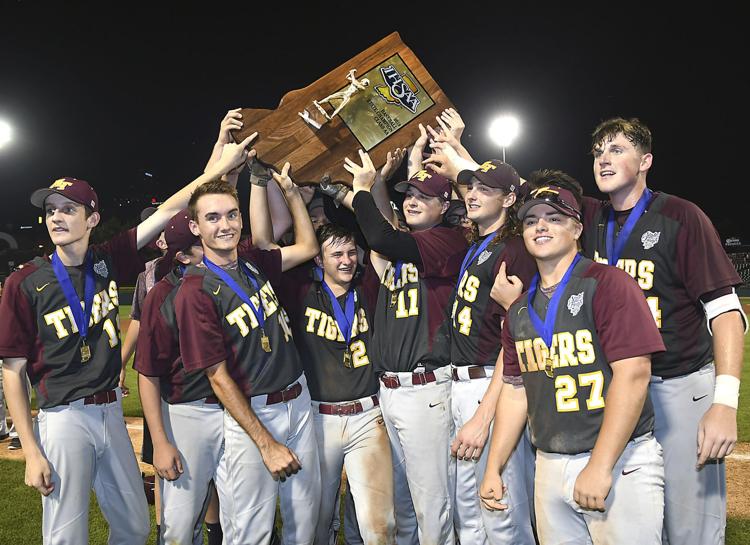 INDIANAPOLIS — As the ball dropped safely in the left-field grass, Nick Williams rounded first and streaked toward his mother, looking for a hug, and Brennan Morehead crossed the plate with the winning run he didn't fully realize he had scored.
Such was the madness that erupted in the bottom of the seventh inning Tuesday night as Alexandria scored a come-from-behind 4-3 win over Southridge (22-9) to claim the school's second Class 2A baseball state title.
To say the Tigers (29-6) came from behind may be putting it lightly. Until the sixth inning, the Tigers appeared to be a team destined to come up short as they missed out on two golden opportunities to dent the plate against a dominant sophomore pitcher.
Then Jimmy Linder, the winning pitcher of Alexandria's 1998 state champion team — the previous state champ for the school — offered up some words of encouragement to Williams as he entered the dugout in the middle of the sixth, with his team trailing 3-0.
"(Linder) gave us a really heartwarming speech to fight and to never give up," Williams said. "I think that helped a lot. That just got us rolling, and it meant a lot to me."
"Having those '98 guys around is a really big lift, they've really supported us," Alex coach Jeff Closser said.
Until the sixth, the Tigers managed just two hits against Southridge starter Ethan Bell. But, after Morehead grounded out to start the frame, Williams started the pivotal rally with a sharp single to left field, the first of three consecutive Alex hits. Junior Rylan Metz followed with a single up the middle, his second hit of the day, before Brayton Gaines singled to left-center to score Caleb Bott — who was running for Williams. Metz scored on a wild pitch, and the Tigers had new life.
"That was all we needed," Metz said. "We knew if we could put a few (hits) together, we would get some more."
Morehead, meanwhile, was continuing his outstanding postseason run on the mound. Although he struggled with command early, through six innings, he had allowed just two earned runs on four hits while striking out six. He retired the Raiders on three routine infield outs in the top of the seventh, capping off a performance in which he knocked off 11 of the final 12 batters he faced.
In 27 innings this postseason, he allowed just three earned runs on 16 hits with 30 strikeouts.
"I'm over there complaining to Coach Sells that (Morehead's) not sharp," Closser said. "Then I turn around and he's given up three runs, two of them earned, on less than a hundred pitches against a team that hits like that. He's a good quality pitcher."
But Alex still needed another miracle to even keep hope alive.
Bell struck out Cade Vernetti and Trey Stokes to start the bottom of the seventh inning. But when he struck out Kole Stewart, the ball was in the dirt, and Stewart raced to first. Catcher Chase Taylor threw wildly down the right-field line, allowing Stewart to head to second.
Morehead followed with a single to center to score Stewart with the tying run and — in a key moment — advanced to second on the throw home, putting himself in scoring position for Williams.
Williams wasted no time swinging at the first Bell offering and hit a popup into short left field. Left fielder Patrick Sander and shortstop Colson Montgomery converged and — in a moment's hesitation — allowed the ball to drop as Morehead crossed the plate.
Metz, in the on deck circle at the time, had to let Morehead know he had just scored the winning run.
"I saw the left fielder run in, and then I saw them both stop," Metz said. "Then I saw Brennan score. That's all I know. Brennan wasn't seeing what happened, and I said, 'We just won the state championship, dude.'"
Williams, meanwhile, seeing the ball drop and Morehead score, immediately dashed toward the Tigers fans seated behind the third-base dugout. He had one target in mind.
"I thought of my mom immediately," he said. "She was the one that pulled me from Daleville to go to Alex. That's probably been the best decision of my life so far."
The Broncos won the Class 1A state title last year, the first season after Williams transferred.
"I'm friends with all those guys," Williams said. "It feels great, honestly. I'm just happy we won. The four seniors we have worked so hard, especially Trey Stokes and Remington Miller. (Miller) is such a hard worker. He didn't get in the game, but I love that kid to death no matter what. We decided we were going to win this for the seniors and for coach (Closser), and we sure as heck did that."
For Closser, in his 13th season as coach for the Tigers, he now has a championship to go along with the one he watched his son — 1998 Mr. Baseball J.D. Closser — win 21 years ago.
"Today, it was exciting, and I love these guys because they're a good group of kids, and they do things right," Closser said. "They're good students, they're good citizens, they help people and they're really good baseball players.
"And I love them all."